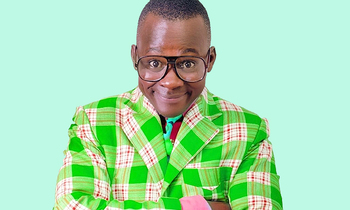 RELATIONSHIPS

Herbert Mendo Ssegujja is a standup comedian best known as Teacher Mpamire. His impression of President Yoweri Museveni catapulted him into the local limelight, before his popularity soared further beyond the borders. He has performed in countries such as Kenya, Malawi and Zambia. The 35-year-old is a comedian, actor and high school teacher. He is planning to walk his finacee down the aisle this year. New Vision's Joan Murungi had a chat with him about his love life.

__________________________


Is this is your first relationship?

[Sighs] I will never date a dark-skinned girl, by the way. My first love was the person I had committed myself to. She disappointed me, saying she no longer needed me in her life. I tried everything to bring her back but all was in vein. I never thought I would fall in love again -- until God blessed me with my lovely Carol Barekye two years later.

After the hearbreak, I felt lonely and needed someone by my side to keep me happy and let me forget all that I had gone through. Carol made it more complete than ever.

How did you meet her?

I had gone to visit my sister at YMCA Comprehensive Institute [along Bombo Road in Wandegeya] and I saw her there. She was studying Catering and Hotel Management. I made regular visits until we became friends. I organised a beach party but she still said no, claiming she never wanted to fall for a teacher. However, I finally won her heart.

Anha? So when is the wedding?

Wedding meetings kicked off in August. I already have an events manager. Zuena [musician Bebe Cool's wife] will be in charge of the cake. I am wedding my woman this year. Due to the fact that am an artist and I have many shows, I am still arranging the programme. Be rest assured that am walking her down the aisle this year.


Oyaaaaaaaaa
It's monday👍👍👍👍👍
You know waram saying.
It's Teacher Mpamire On The Street.
Don't forget t subscribe on my YouTube channel for more clips. https://t.co/hyNq3M3nWj

— Teacher Mpamire (@TrMpamire256) October 1, 2018


Any hiccups in your current relationship?

Nothing. Her culture, maybe. When we went for kukyala [pre-introduction ceremony visit] at her home in Kiruhura district in 2016, she was brought covered with a cloth covering her face. I couldn't even see her and my people were not happy with it.

Anyways, our connection is far beyond that one incident. I not only wanted her for a wife, but for a friend as well. She is understanding and knows how to deal with me. She is religious, although I don't understand the language during time for prayers at home.

Being a busy person, how do you make time for your relationship?

She is very fine with my busy career, by the way. The first thing she liked about me was my sense of homour. Like I said, she understands me better and gets to know that I have to work. I can't fail to get time for her.

You flew to the US for studies for a year. What was it like?

[Sighs] Girls in the US are mwah! I one time was tempted to married and later divorce there, or even never to come back. But then, I thought about my beautiful Carol and all the sacrifices she made for me.I had to come back after studies since I never wanted to disappoint her yet I truly love her.

I won't deny having been tempted while away. Such things happen to me but then, I just look back and chill as life goes on since I already have a lady in my life.

So what is Carol up to?

Well, she might have studied catering, but Carol has started up a boutique in Makindye. That is what keeps her busy.
You might also be interested in this

Comedian Mendo introduced by fiancée