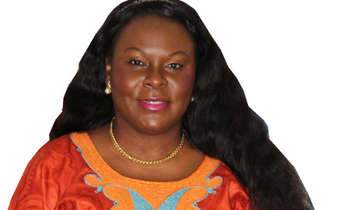 By Rosa Malango
Introduction: Global Human Development Trends
Since 1990, UNDP has prepared the Global Human Development Report (HDR) as one of its most important knowledge products. It enables us to assess progress in human development across the globe. The Human Development Index (HDI), at the core of this report, assesses progress on three main dimensions: long life, proxied by life expectancy at birth; access to knowledge, by mean years of education by the adult population and expected years of schooling for children of school-entry age; and a decent standard of living, by Gross National Income per capita. Other indicators in the areas of income and gender inequality are also used to broaden our understanding of progress in human development.
On September 14, 2018, UNDP launched the statistical update for 2017 providing a comprehensive update of emerging trends in human development at global, regional and national levels. This update presents Human Development Index values for 189 countries and territories with the most recent data for 2017. Of these countries, 59 are in the very high human development group, 53 in the high, 39 in the medium and only 38 in the low. The top five countries in the global HDI ranking are Norway (0.953), Switzerland (0.944), Australia (0.939), Ireland (0.938) and Germany (0.936) while the bottom five are Burundi (0.417), Chad (0.404), South Sudan (0.388), the Central African Republic (0.367) and Niger (0.354). After almost three decades, all regions and human development groups have made substantial progress as evidenced in the increase in the global HDI value in 2017 to 0.728, up about 21.7 per- cent from 0.598 in 1990. This means across the world, the average lifespan is seven years longer than it was in 1990, people are more educated as more than 130 countries have universal enrolment in primary education and people have greater livelihood opportunities. This positive progress across all regions and human development groups is, however, unequal. South Asia was the fastest growing region over 1990-2017 at 45.3 percent, followed by East Asia and the Pacific at 41.8 percent and Sub- Saharan Africa at 34.9 percent. Similar variations are observed at country level, countries experiencing significant set-backs due to conflict (e.g., Yemen, Syria), epidemics (e.g., west African countries during Ebola outbreak) or economic crises have also seen reversals in their human development status.
Where does Uganda stand? steady but slow progress
The 2018 Human Development Report Statistical Update, indicates that Uganda's Human Development Index stands at 0.516 in 2017, placing the country at 162nd position out of 189 countries worldwide. As part of innovations in measuring human development, UNDP has introduced a dashboard to assess the quality of human development, measuring it along with 13 indicators which include assessments on, the quality of health - lost health expectancy, number of physicians, and number of hospital beds; the quality of education - pupil-teacher ratio in primary schools, primary school teachers trained to teach, proportion of schools with access to the internet, and results from the Programme for International Student Assessment (PISA) scores in mathematics, reading and science; and, the quality of living standards - the proportion of employed people engaged in vulnerable employment, the proportion of rural population with access to electricity, the proportion of population using improved drinking water sources and proportion of population using improved sanitation facilities. The 2018 update shows that in eight of the 13 indicators above, Uganda ranks within the bottom third, while in five of the indicators information is missing.
Let me focus on HDI to deepen our understanding of Uganda's progress. While Uganda's HDI has grown by 66 percent since the launch of the maiden report in 1990, its growth has registered marginal gains during the two National Development Plan (NDP) periods, at an average of 2.9 percent, compared to the era of the Poverty Eradication Action Plans when it averaged 12 percent. This means that Uganda, has been making slow progress in human development in recent years. Between 1990 and 2017, Uganda's life expectancy at birth increased by 14.7 years, mean years of schooling increased by 3.3 years, expected years of schooling increased by 5.9 years and Uganda's Gross National Income (GNI) per capita increased by about 119.6 percent. The Gender Development Index (GDI) which, compares HDI between females and males, shows that there is still a gender gap that needs to be addressed. The female HDI value for Uganda is 0.475 in contrast with 0.550 for males, resulting in a GDI value of 0.865, slightly lower than the index for Sub-Saharan African countries by 0.02.
Uganda's progress in human development, as measured by the HDI has remained below the level for countries in the low human development category and for Sub Saharan Africa. Its performance is lower than the rest of East Africa, except for Burundi, in almost all human development dimensions. The country's HDI is below Kenya by 0.076 points, Tanzania by 0.024, and Rwanda by 0.01. This lag will affect Uganda's competitiveness as a preferred destination for investments and thereby its growth potential unless deliberate effort is made to rapidly enhance the quality of the country's human capital base.
The slow progress in human development and other emerging trends observed recently in the results of the 2016 Uganda Bureau of Statistics (UBOS) Household Survey, namely the increase in poverty and rise in inequality provide compelling reasons to rethink the strategies needed to build a strong base to fast-track efforts in human capital development and regain the rapid rate of gains in the pursuit of inclusive economic growth and sustainable development.
Accelerating progress in Human Development: An Effective Strategy for Inclusive Prosperity & Sustainable Development
Addressing human development remains one of most effective strategies for sustainable development and inclusive prosperity. Leaving no one behind will require concerted efforts by public and private sector leaders to aaccelerate investment in higher levels of human development. It is feasible but not easy. I wish to reiterate the main principle in human development, 'Every human being counts, and every human life is equally valuable'. With the 2030 Agenda, its 17 Sustainable Development Goals and the promise to leave no one behind, this universal perspective of national relevance is more critical than ever, particularly in a world that is increasingly unequal and unsustainable. If we are to leave no one behind and accelerate progress, we will require a multi-faceted, highly redistributive and broad-based approach, strategic partnerships, and strengthened governance systems including at lower levels. Let me share a few basics that underpin effective delivery on human capital development:
First, investing in people, especially the young will secure Uganda's future. As the Minister of Finance Planning and Economic development stated during the 2018 budget conference earlier this month, a nation that does not invest in its people mortgages its future. With 80 percent aged below 35 years according to UBOS statistics, Uganda's population remains one of the youngest in the world. The current trend indicates that this population will double from 32 million in 2018 to 52 million by 2040. The population expected to be ready for work, assuming completion of schooling (18-64 years) will more than double from 17 million to 38 million during the same time, representing 44 and 52, percent respectively. At the same time, the population outside of the labour force, that I conservatively define as those below 18 and still in school, and those above 64, which is the upper boundary of the economically active age, will increase by about 12 million come 2040. These figures present both an opportunity and a crisis for human development. A crisis in the sense that the population in need of basic social services mainly education and health will rise by more than 50% between now and 2040 placing pressure on the expansion of social services, especially as those expected to be out of school and ready to engage in active employment will more than double. An opportunity, when I look at the spirit of Uganda's young people. I am inspired by their ambition, passion, determination and sense of innovation. If harnessed, solutions from the youth
provide the potential to accelerate human development and move Uganda to greater heights in tune with a changing global economic landscape. From a policy perspective, I am also optimistic that the government can build upon its skills development and economic empowerment initiatives aimed at preparing and integrating young people into the mainstream economy by promoting the adoption of new technologies in the agriculture sector, accelerating progress in expanding the manufacturing sector through the promotion of select value chains and diversifying the livelihood of the population particularly those close to fragile ecosystems. In addition, there is an incredible opportunity to step up concerted efforts to address gender inequality and empower half the country's population, by tackling major barriers that hinder women and girls' access to social and economic services especially in rural areas and among the urban poor. It is time to reinvigorate the discussion on a smart, inclusive and sustainable health insurance scheme to ensure responsive and affordable coverage for all. A healthy population can work efficiently and the long term economic costs of investing in health care will pay off. We must think about transition from conceptualising access to medical care in terms of physical infrastructure to emphasizing equal access to treatment for all including populations in hard-to-reach locations.
We must accelerate and sustain progress in the health and education sectors to improve human development. Uganda's current expenditure on education, is lower than Kenya, Tanzania and Rwanda as a share of GDP and as a share of total national budget. This means, more strategic investment is required to accelerate reform in the education system, knowing that what works is not just increasing spending. There is need to determine an educational architecture that will deliver citizens with the required values and competencies to contribute or lead development in key sectors across the nation and beyond. I call on planners and accountants to avoid the temptation of continually looking at investments in human capital as secondary compared to other public investments such as physical infrastructure. Investments in hardware - infrastructure- and software - human capital- must go hand in hand if the population is to have the requisite skills and knowledge to use the infrastructure for inclusive growth and sustainable development.
Second, given that most of what matters to the citizens happens at the Local Government level, transformation of people's lives will only happen when these administrative units are empowered to lead development efforts efficiently. With the persistently declining resource envelope from the central government, currently accounting for less than 13 percent of the national budget, local governments possess limited capacity to deliver on quality services in key sectors such as education, health, water, roads, industrialization and agriculture. Their flexibility in delivering on their discretionary development needs is constrained due to the conditional nature of the grants they receive. Some of these challenges were echoed prominently during the 2018 budget conference and can be addressed through a strategic review aimed at empowering income generation, accountability and service delivery by local governments.
As His Excellency, President Yoweri Kaguta Museveni stated recently in a meeting with Local Council (LC) V chairpersons from all over the country at the State House on 17th August 2018 'Local Governments Authorities' together with the Central Government departments are obliged to agree on common and shared goals for national development and transformation based on available resources.' Based on this important principle, there is a need to revitalize Local Governments into vibrant and efficient levers of economic development enabling them to devise innovative solutions that balance technology and local values to deliver on human development and shared prosperity. The capacity of Local Governments should be assessed in light of the role they are expected to play in the achievement of SDGs. This can be subsequently followed by institutionalized capacity building, as well as mechanisms that encourage competition and reward innovation to urgently deliver on the 2030 and national agenda. It is also imperative for government to consider options for increasing resources for Local Governments simultaneously raising their capacity to mobilize resources locally.
Third, the private sector should play a role in defining the quality of investments in the social sector. This requires new partnerships with the government informed by incentives and regulatory frameworks. Thanks to the 2030 Agenda, the private sector is now recognized as part of the solution to development challenges including economic, social and environmental, not only through investments but also the implementation of best practices. The role of the private sector could also entail fostering innovation around new technologies, products and services that enhance human capital development and inclusive prosperity. Within the UN family, agencies such as UNDP, UNICEF, the UN Industrial Development Organization (UNIDO) and the UN Capital Development Fund (UNCDF) have articulated mechanisms for engaging the private sector to deliver on programmes for enhancing human capital. I look forward to coordinating our efforts with other partners with similar frameworks.
Conclusion
Uganda has made significant advances in human development over the past few decades and while progress has been slow and inadequate in the recent past, the country still has a significant opportunity to accelerate progress in all aspects of human development, including access to knowledge, health and long life as well as improved standards of living. To avoid a reversal in gains, it is important to sustain peace and security, which is the foundation for any sustainable human development. This should be complemented with transformational partnerships, relevant policies, smart investments and strengthened implementation capacities all levels.
While the national government takes the primary responsibility of leading efforts towards sustainable development as per the National Vision 2040, the Addis Ababa Action Agenda and the Sustainable Development Goals, it is important for development partners to ensure coherent support to the government and people of Uganda, including at local level. I wish to reiterate UNDP's and the UN system full
support to Uganda in all its efforts to accelerate progress in Human development and achieve both inclusive prosperity and sustainable development.
Writer is the UN Resident Coordinator/UNDP Resident Representative