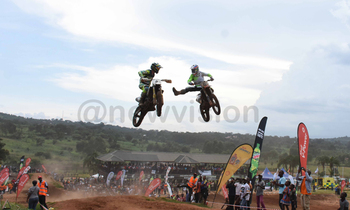 Sunday September 30 in Busiika

Mountain Dew National Motocross round Six

MX1 top three on table standings

Arthur Blick 251points

Maxime van pee 164

Anwar Kabiito 153

It will be battle of machines in the sixth round of the Mountain Dew National motocross championship in Busiika on Sunday.

Ten time national motocross champion Arthur Blick jr. on a Kawasaki 450cc 2013 model has the oldest bike in the MX1 open class.
But he has vowed to give his opponents a run for their money.

"Yes I have the oldest bike, but I am out to maximise points on the table standing as I chase my eleventh national championship title," Blick said.

Blick tops the table standing with 251 points, 87 points ahead of second placed Maxime Van Pee who is the defending champion.

Blick, however, contends that it is not going to be easy for him since all his opponents are good and have superior bikes on his.

"Actually the MX1 may have two leagues, one being between the Orland brothers, Maxime and the guest riders and the other being me, Asaf and others," added the 2015 National rally champion.

The MX1 class with have four foreign guest riders Ray Leybovich, Brandon Leith, Christopher Thies (USA) and Joshua Mulimi (SA).