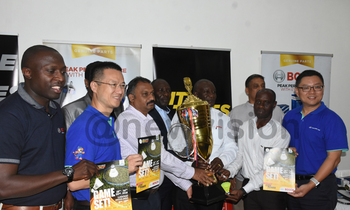 East African Badminton Challenge

Dates: September 28 to 30

Time: 8am-10pm

Categories

Children category

(U-10, U-13, U-15 & U-19)

University category

Professionals category

(Singles and Doubles)

Corporate Challenge,

Indian Challenge

National Challenge (between countries).

National badminton coach Simon Mugabi has cautioned Uganda against complacency when they take on their opponents in the East African Badminton Challenge that starts Friday and ends on Sunday at Lugogo Indoor Arena.

Mugabi said that Uganda is the best in the region, but that should not put Ugandan players in a comfortable seat.

"Our players should be determined and focused during this tournament because everyone will lookout to beat them," Mugabi said.

"Yes we are the best in the region, but we should not relax and be caught off guard by these guests," Mugabi who is also the Africa body technical committee chairman added.

Last year, Brian Kasirye of Uganda won both the juniors and seniors singles guiding Uganda to the overall trophy.

Uganda are defending champions in the National category, Kenyatta University Kenya are defending champion in the men's category, while Ndejje University are women champions in the University category. City Tyres are defending champions in the corporate category.

The three-day event funded by Bosch Company and City Tyres has attracted participants from Kenya, Tanzania, Rwanda, Burundi and Uganda starts on Friday and ends Sunday.