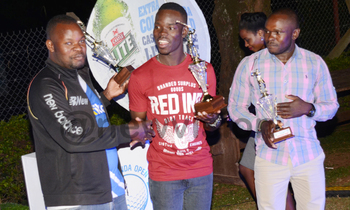 Kenya's Nelson Simwa (Left) and Alfred Nandwa (right) pose with Otile after the Pro-Am tournament at Entebbe Club. PHOTOS: Michael Nsubuga
Uganda's Ronald Rugumayo registered a perfect start in his professional golfing debut when his one-over-par 72 gross won him a share of sh1m with Zimbabwe's Charamba Tongoona who returned the same score during the Pro-Am tournament of the Castle Lite Pro's Open at the Entebbe Course on Tuesday.

Isaac Asiku, an amateur who played with the two professionals also carded 72 nett for team Serena who finished third overall in the warm up contest to the four-day, 72 hole professionals' event.

But it was Kenya's Nelson Simwa and Alfred Nandwa, playing for CBA Bank team that took the biggest share of sh2.5m of the sh5m that was on offer, after they carded 69 and 71 gross respectively.

The two played alongside amateur champion Ronald Otile who scored 74.
Kenya's Nelson Simwa (3rd Left) and Alfred Nandwa (center) pose with Otile and Castle Lite brand manager Julian Ssentamu (right) after the Pro-Am tournament at Entebbe Club
Other Kenyans Simon Ngigi and Joseph Waweru shared out sh1.5m between themselves after they came second overall. The two played with Sam Kacungira who grabbed a hole-in-one on hole No.16 just like another professional debutant Richard Baguma who hit the same on hole-No. 2.

The fight for the sh185 prize money starts at 8.00am on Wednesday with five former champions battling for the money.

The top 30 golfers and ties who make the cut after 36 holes will share the money with the overall winner pocketing sh40m.

Top three teams

CBA Bank team

Nelson Simwa 69

Alfred Nandwa 71

Ronald Otile 74

Time Cop team

Simon Ngigi 72

Joseph Waweru 73

Sam Kacungira 72

Serena Hotel team

Ronald Rugumayo 72

Tongoona Charamba 72

Isaac Aisu 72