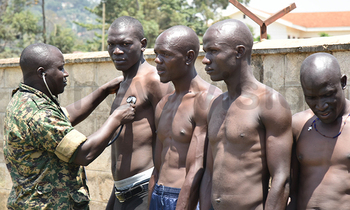 The recruitment of of Local Defence Units (LDU) kicked off Tuesday in Kampala, Wakiso and Mukono, with recrutiment centres registering overwhleming numbers.
However, much as they wanted to join, the village security teams, there were many roadblocks. Majority didnt escape through the tight sieve mounted by the Uganda People's Defence Forces (UPDF) at various recruitment centres.
At Lugogo playground in Nakawa division, half of the number that turned up, didnt finish the mandatory 4-kilometre race. Others, the compulsory medical tests for HIV\AIDS and Hepatatis B, pushed them aside.
Yet to some, the sieve was as simple as the drills. To qualify, a national ID, recomemndation letter from the local cocuncil and four passport size photos, were a must on the list.
The recruitment comes at the backdrop of President Yoweri Museveni's directive to call up reservists, following the gruesome assassination of former Buyende district police commander, Muhammad Kirumira.
Museveni ordered for deployment of 24,000 LDUs to reinforce security presence especially in urban centers. However, UPDF officers that conducted the exercise said, the first phase, that staretd today and expected to end on Friday, will only accomodate 6,000.
High profile assassinations that have sent a wave of shock in the public include that of Assistant Inspector General of Police (AIGP) Andrew Felix Kaweesi, former Arua Municipality MP Ibrahim Abiriga, Maj. Mohammed Kiggundu and senior principal state attorney Joan Namazzi Kagezi.
]Other horrific murders that have eroded Uganda's law enforcement bodies are seven Muslim clerics, a similar pattern of raping and killing women in Entebbe, machete-wielding men in Masaka and, most recently, kidnappings, mostly of women, for ransom.
To ensure justice for the host slain victims and curb the rampant urban criminality, Museveni has suggested several other measures such as installation of Closed Circuit Televisions (CCTV) cameras that is already underway and having a lean but well trained and equipped security force.