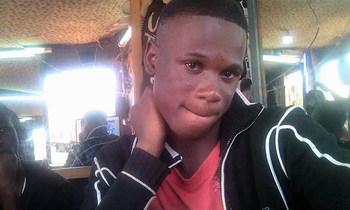 PIC: A photo of the suspect taking a selfie, attempting to disguise himself as a female

CRIME

For a long time, everything had gone to plan - with hardly a hitch. But often times, luck can prove to be elusive, as one teenage lad in Kamuli district found out recently.

Posing as a female, he had succeeded in allegedly conning more than a dozen men out of their loved-laced money using social media.

One of the victims is a local pastor.

To make his ploy believable, 19-year-old Safani Musambi would reportedly slap on make-up, soften his voice and complete the deception by wearing female outfits.
Musambi would take selfies and post them on his fake Facebook profile to dupe unsuspecting men


The scheme was successful for some time, until his latest victim - a pastor from Kayunga-Bugerere - discovered the real identity of this 'hot girl' he had hit off a potential affair with online.

By the time Musambi was arrested this week by Police in Kamuli in eastern Uganda, he had, accoring to his confession, duped as many as 16 men in his carefully woven tactic that had the promise of love - or sometimes sex - as the centrepiece.

Getting down to work

So how did his victims fall in the jaws of his snare?

To begin with, Musambi knew social media would be his medium of execution. He therefore created a fake profile on social networking site Facebook. He called himself Namusoke, a Ganda female name.

He then added to the profile photos of his deceptive, photographic alter ego - of course after making up and pulling off the desired feminine look. For his selfies, he meticulously struck kinky poses like those often seen by adventurous females to accentuate their physical attributes.

It is this transformation that would do the magic. In his mind, Musambi would get enough money to cater for his needs.

For his victims, it was always the kind of love that never was.

Those who immediately got lust/love-struck would privately ask user Namusoke for 'her' phone number. She would oblige. And soon, a conversation around them sending her money so they could meet would unfold.

That was Musambi's infamous script.

And for those eager to take the highway into 'her' heart or in between 'her' legs, it ended up in disappointment. Upon meeting, the disguised teenage crook would feign sickness or an emergency after securing the money.

It had gone on well since January this year, until the 16th victim smoked him out - the same way bush hunters would a porcupine from a hole.

It is not clear how the pastor found out, but the suspect himself claimed it might have been by "ekisa kya Yesu" (God's grace).

After discovering that he had all along been dealing with a fellow man, the man-of-God reportedly immediately secretly tipped off local Police, who stormed the place where the two were meeting at Bulopa trading centre, and arrested Musambi.
Musambi's luck ran out and he was arrested after he was discovered to be an imposter
To make his alter ego believable, he would dress like a female, even wearing stuffed bras to give him bossom feminine definition



Busoga North region Police spokesperson, Michael Kasadha, confirmed the arrest, and said they are investigating the matter.

"We shall take him to court once we are done with the investigations," he said, adding that suspect Musambi has been charged with extortion of money by false pretense and calling himself what he is not.

At Kamuli Central Police Station, he pleaded for forgiveness and confessed that he conned the victims so as to generate money to finance his studies.

In fact, he even wrote a list of the names of people he had duped in his scheme.
Once under arrest, the suspect wrote down the names of the 16 people he had duped in his scheme
Many other similar schemes

Stories of people conning others out of their money are common.

This year in March, Police arrested a group of five men suspected to have engaged in sending telecom customers text messages of winning cash prices or misplaced mobile money transactions.

The suspected fraudsters would send congratulatory messages to peoples' phones informing them of an amount of money they have won and the recipient of the text message is immediately requested to call a certain phone number to redeem his or her prize, stating that the text message is often accompanied with a fake pin number, which are all attempts to obtain the recipient's cooperation.

The moment you call, the receiver purporting to be working with a telecommunication network will ask you to confirm the pin number and scratch a credit card for them to begin the processing of your prize. You are also promised a refund of the credit when the processing is over.

However, after defrauding, they switch off the phones and there is no prize to pick up.

Other times the fraudsters send a fake mobile money message and call back requesting it back arguing it was a mistaken deposit and the unsuspecting users end up loosing huge sums of money.

In January, the Police in Nateete arrested a man that reportedly conned a student out of his school fees.

Shaban Kafeero, the suspect, was said to have approached the unwitting schoolgoer inside Centenary Bank and tricked him.

The suspect allegedly connived with another man, who fled with the student's money. The victim told Police he had gone to deposit the money in the bank as his school fees for this coming term.

The lad said Kafeero and his mate approached him and said they would convert the money (sh1.5m) into dollars.
Also related to this story

Police arrest suspected text message fraudsters

Two men con student out of school fees at a bank

Suspected conman, Kasule further remanded

Trial of politician who conned American of $160,000 stalls

Conmen infiltrate Makerere admission process