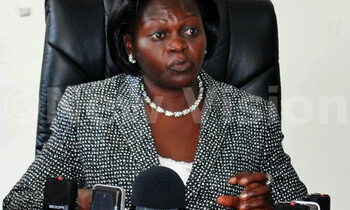 PIC: Sarah Opendi, the state minister for health in charge of general duties says the issue is to do with salaries

HEALTH

KAMPALA - Complaints about patients rushing to government health facilities in need of high quality medical care only to be told that the senior specialist doctor works two days in week are a major news staple.

Rather than deny the complaints, Sarah Opendi, the state minister for health in charge of general duties, admits that government is struggling to attract and retain specialist medical personnel in its health facilities because of meager pay.

"The Health Service Commission has severally advertised for these jobs but rarely do we get interested candidates," she told legislators last week.

"Doctors at senior consultant level find it hard to work for sh3m a month when they can earn sh10m in Rwanda, Kenya or in private health facilities."

Government, Opendi noted, intends to appraise the pay of senior medical personnel in the next budget cycle, with the aim of attracting and retaining them.

The minister was responding to concerns by Atim Joy Ongom (Lira district) that Lira regional referral hospital, a government hospital that serves the entire Lango subregion, is suffering the double whammy of lack of specialist medical personnel and power outage.

During the parliamentary debates that preceded the passing of the 2018/19 budget, government indicated that it intended to review the salaries of medical personnel in its facilities at all levels.

However, the admission by Opendi seems to indicate that the salary structure mooted by government is yet to be effected.

The issue of government struggling to attract specialist medical personnel has bedeviled Uganda's health sector.

Prof. Pius Okong, the chairperson of Health Service Commission told MPs sitting on the health committee three years ago that Mulago Hospital had failed to recruit senior specialist medical personnel despite numerous adverts.

The problem has been aggravated by brain drain as Ugandan doctors seek greener pastures in countries such as Rwanda, South Africa and Botswana.

Early this year, Government decided to 'import' 200 Cuban doctors to stem what President Yoweri Museveni described as blackmail by Ugandan doctors incessantly clamoring for pay rise and improved working conditions every financial year.

At the time, a riled Museveni blamed striking doctors under the Uganda Medical Association of holding the country hostage.

However, at the time, experts doubted the ability of Cuban doctors working in hard-to-reach areas suffering a lack of specialist doctors who find it hard to live in such places due to a combination of lack of essential equipment and intermittent power outages without emergency substitutes such as generators.