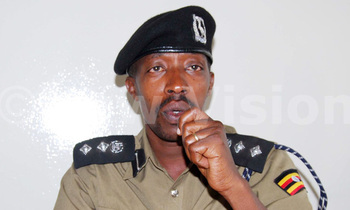 MURDER

KAMPALA - The Police has said that ASP Muhammad Kirumira, who was assassinated on Saturday, was a hardworker who excelled in many of the capacities he worked under.

The former Buyende District Police Commander was gunned down near his residence at around 9:00pm local time in Bulenga, Wakiso district.

Addressing a press conference at the Police headquarters in Naguru on Sunday, Police spokesperson Emilian Kayima identified the other occupant of the car at the time as Resty Nalinya, a resident of the area.

She also succumbed to bullet wounds from the attack by the runaway assassins.

Kayima said that 35-year-old Kirumira, who joined the Police Force on January 29, 2005, rose through the ranks in a short period of time because of excellent execution of his work.

But inevitably, he "underwent some challenges" in his profession.

After his training, Kirumira was deployed to Kibaale district as a detective and later as a uniform officer to serve in various capacites.

"In our view [Police], he excelled in many of these, but of course as we serve, there are challenges. He underwent some challenges," said Kayima.

Kirumira has died at the rank of assistant superintendent of police (ASP).

Earlier this year, when the Police disciplinary court found him guilty of some offences, the tribunal recommended that he be demoted in rank.

Kirumira, however, appealed against the decision -- the reason he has been still an assistant superintendent of police.

"In law, when you appeal, you retain your rank," Kayima said.

He urged Ugandans not to "give way to the fear [by agents of criminal] and that we can stand together to defeat crime".

On Saturday, Kirumira and Nalinya were rushed to Rubaga Hospital, where they were declared dead shortly after.

Their bodies were taken to Mulago for a postmortem examination.

'Total resolve'

Kayima said Police met with the families of the deceased and that burial arrangements were being done. Kirumira will be buried at his ancestral in Mpambire, Mpigi district on Sunday.

Nalinya will be laid to rest on Monday in Mpenja, Gomba district, where she hails from.

"The assassination is yet another gruesome one, which we condemn strongly. And the information we have is that they [assassins] used a similar method of the bodaboda and they fled the scene immediately after that crime," Kayima told reporters.

"Security agencies are putting their heads together in the hunt for these criminals, and our resolve to get to the bottom of this is total.

"We send our condolences to the family, the Police fraternity and to all his admirers out there," said Kayima.