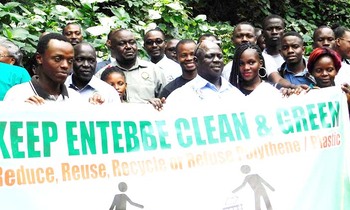 Entebbe municipality Rotary Club, Uganda Wildlife Education Centre (UWEC) and Entebbe Tour Guides Association have embarked on a concerted drive to keep the municipality clean.
"If our ancestors were right when they coined the phrase, first impression matters. Entebbe being the entry point to Uganda by air one's first view of the place determines their impression of the country," said David Musingo speaking on behalf of the UWEC executive director.
"Together we can halt the menace of littering and unhygienic way of disposing garbage. We are badly affected by our neighbours who throw polythene papers and plastics that endanger the lives of animals, birds and reptiles salvaged from poachers or unscrupulous dealers."
Entebbe Municipality Mayor, Dee Paul Kayanja said, Entebbe has the potential of being one of the most sought after tourist attractions in the country if the different products are developed.
"We first have to clean up our neighbourhood, before telling visitors about bird sanctuaries in our midst, the zoo of international repute in our back yard, Lake Victoria, Ngamba Islands and a wealth of history in country."
The Rotarians urged the youth to make a fortune by picking up all the plastics disposed carelessly.
"There are recycling companies that are ready to buy them as raw materials," said rotarian George Bush. "You can imagine how much you can make from plastics thrown away by a population of 79, 000 people in Entebbe." He said vibrant youths have started exploiting opportunities like these.
''We have a Tour Guide Association,'' boasted another Rotarian Walter Nyero. To impress their clients to part with $20 for their service they are starting by cleaning up their environment. They are aggressively fighting littering in the communities where they dwell.
A casual ride in Kitoro, senior quarters and other neighborhoods was evidence that Entebbe is engaging Fort Portal in a stiff race for being the cleanest town in the country. The roads are treed and a cool breeze sweeps from the lake. Bars and hotels make it a merry makers dream destination.