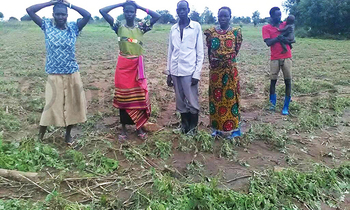 Farmer in Abuku sub-county in Koboko district are counting loses after heavy rain coupled with hailstorms destroyed 32 acres of beans and cassava plantation.
The Tuesday evening downpour ravaged the gardens of the three different farmers' groups who came together to farm jointly after securing support under the Northern Uganda Social Action Fund (NUSAF) 3 program.
Each group had received funding worth sh17m to procure cassava stalks and bean seeds.
Simon Angabua, the officer in charge of NUSAF, said the three farmers' groups of Yamira B, C and Arumadri, lost 32 acres of beans and cassava.
The three groups each procured 72 bags of cassava stalks and 360kgs of bean seeds and planting was done between June and July this year.
He said the group has lost everything and the district has made assessment of the damage and will hand over the report to the Office of the Prime Minister.
Angabua said the disaster will affect the groups because the intention of NUSAF is to alleviate poverty and also promote household income for the individuals under the groups.
The district is plans to hold a disaster committee meeting on Monday to discuss the level of disaster and lobby from partner organisations to support the groups.
The storm also hit Borokolongo trading centre where roofs of houses were blown off.
Koboko district budgeted sh3b under NUSAF III for a period of five years from 2016 to 2021. The district has already received and disbursed sh1.1b to farmers' groups, persons living with disabilities, elders, youths and other groups that benefited.
Zulaika Othman the district fisheries officer said in the 2017/18 financial year, the district did not budget for disasters, but for 2018/19 only sh5m was budgeted to mitigate disaster.
She appealed to Operation Wealth Creation officials to rescue the district and support the farmers who lost crops in the hailstorm with quick maturing seeds before the season ends in November.