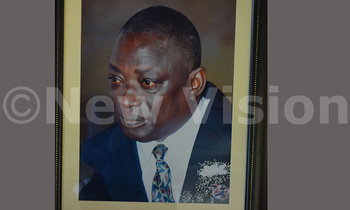 OBITUARY
Tributes are being paid to Dr George William Olwit, the pioneer Medical Officer of Abim Hospital, who succumbed to cancer on Monday (August 27) at the age of 74. Prior to his death, he was staying at his retirement home in Lira.

Dr Olwit's moving tributes were mainly given by members of the medical profession during the requiem mass at Our Lady of Africa Catholic Church, Mbuya, on Thursday.

Dr Joel Okullu, who spoke on behalf of the Uganda Medical Council, described Olwit as an exemplary physician, who was passionately dedicated to the profession."

"He had all the qualities of a good doctor. He had that courageous will to go and serve the people in any part of the country. When he was posted to Abim Hospital upon completion of his first degree at Makerere University, he took up the assignment willingly, despite the challenges that characterised the region then. He served with joy and restored the life and hope of many people."

Dr Maxwell Otim Onapa described Dr Olwit as a "righteous doctor."

"He observed the ethics of the medical profession. He also had an entrepreneurial mind. He did many things, including business and humanitarian service. He also served as a cultural leader. He was an exemplary father who loved his children and also gave them a solid moral and religious foundation."

Dorothy Olwit Tinkamanyire admired her dad's sense of humour and his charism of passing on ethical values using stories.

The parish-priest of Mbuya, Fr John Mungereza, also spoke highly of Olwit's professionalism and religious commitment and asked Christian professionals to emulate him.
PIC: Fr John Mungereza presiding over Dr Olwit's requiem mass at Our Lady of Africa Catholic Church, Mbuya, Kampala on Thursday. (AFP)
PIC: Kevin Rweyemamu, a grand-son, delivers a message on behalf of the grandchildren
PIC: Dorothy Olwit, a daughter, eulogises her dad on behalf of her siblings
PIC: Dr Joel Okullo delivers condolence message from the Uganda Medical Council


A brief on Dr. Olwit

Dr. Olwit was the son of the late Margarita and Peter Oleke, who lived at Omoro, in Alebtong district. He was educated at Omoro PS, Alebtong (East Lango/Lira), Ngetta Juniour Secondary School, Comboni College and Ntare High School, where he did his A-Level (1966).

He proceeded to Makerere University Medical School from where he graduated in 1971. In 1979, he joined London School of Hygiene and Topical Medicine for his Master's Programme.

Dr Olwit was the pioneer Medical Officer of Abim Hospital, where he was posted after his first degree (1971). He later served as the District Medical Officer of Tororo (1974-1977).

He also worked in Arua (similar position, 1978-79) before fleeing to exile in Britain, where he lived with the family and studied until his return to Uganda in 1981.

Dr Olwit later joined the ministry of health, where he served and rose to the rank of Assistant Director of Medical Services in charge of Training. In 1987, he was appointed a Professor at the University of Transkei in South Africa, where he served until 1988.

In 1989, he got placement with McGill University (based in Addis Ababa) from where he joined UNICEF, where he worked until he retired in 1996.Upon his return to Uganda, he worked with Italian Co-operation (AVS) in Kigoma and Kibondo, Tanzania, from 1997 to 1998.

Dr Olwit retired from formal employment in 1999 and took up private consulting work in the area of public health through an NGO that he formed in Lira.

He was later appointed Chairman of the governing board of Lira Regional Referral Hospital, a position he held until 2016, when his health could no longer allow him to continue. Olwit was also the pioneer Dean of the School of Midwifery at Lira University.

Further to his medical service, Dr Olwit also served the leader (Awitong) of the Langi clan of Okii Awonodyang, for five years, until he retired in 2012. He also served as the minister of health of Lango Cultural Foundation.

Dr. Olwit is survived by a widow (Ruth Olwit), five children (three girls and two boys) and twelve grand-children.