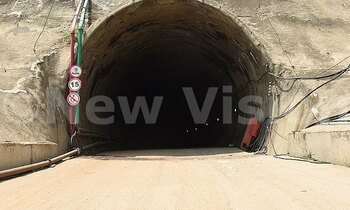 PIC: At the entrance of a tunnel at Karuma. (File photo by Richard Sanya)

INFRASTRUCTURE

KIRYANDONGO - Several people are reported to have been injured after a truck transporting workers rammed into a wall at the Karuma hydropower project.

"No fatalities have been recorded," UEGCL, the government agency implementing the Karuma hydro power project, said in a statement Friday.

The incident happened Thursday evening.

The workers, according to UEGCL, were being transported for the evening shift when the worker carrier truck rammed into the side wall and eventually overturned.

They were moving into one of the tunnels.

All the injured are said to have been transfered to Lacor and Gulu Independent Hospitals for medical attention.

"We are verifying the identity of the injured with available official records and traffic Police are conducting investigations into the likely cause of the accident," UEGCL said, adding that they would release a "more comprehensive report" on what happened.

"We regret the accident and reiterate our unwavering quest for a safe working environment for all."


The Kiryandongo district police commander, Charles Okello, confirmed the incident and said Police investigations are underway.

"The truck registration UBB158A lost control and overturned. The incident occurred at 7:45pm while the workers were going for duty," he said.

Okello said he had not yet established the number of people who were on the vehicle or those injured.

While the exact cause of the incident has yet to be established, Okello noted that the truck developed mechanical problems, with the brake failing in tunnel 8.


With a planned capacity of 600MW, the near-complete Karuma hydropower project is located on the Kyoga Nile River in Kiryandongo district.

The project features a dam that is 14m high and 314m long.

It also has an underground power house, transformer cavern and surge chamber. The water conductor system comprises a 25km network of tunnels.
ALSO RELATED TO THIS STORY

In pictures: Museveni tours near-complete Karuma