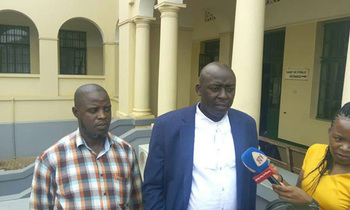 PIC: Dr Ismail Kalule with his lawyer Evans Ochieng. (Credit: Michael Odeng)
2010 BOMBINGS
Five people who were acquitted over the 2010 twin bombings in Kampala are in fresh trial over alleged possession of terror materials while on remand at Luzira upper prisons.

Yesterday, the International Crimes Division of the High Court judge Margret Oguli-Oumo set September 4 as the date when the trial will start.

The accused are Dr Ismail Kalule, Yahya Suleiman Mbuthia, Mohamed Hamid Suleiman, Omar Awadh Omar and Abubakeri Batemyetto.

The accused were re-arrested immediately after their acquittal in 2016 and have been on remand save for Kalule who was early this year granted bail by Justice Moses Mukiibi.

In June 2016, the group was acquitted by now Deputy Chief Justice Alfonse Owiny-Dollo while eight of their colleagues were convicted.

The terror attack left 76 people dead and scores injured.

The eight convicts include three Ugandans, four Kenyans and a Tanzanian. They are Isa Ahmed Luyima, Hassan Hussein Agade, Edris Christopher Magondu, Habib Suleiman Njoroge, Hassan Haruna Luyima, Muhammad Ali Mohammed, Sulaiman Hijar Nyamandondo and Muzafar Luyima.

During the pre-trial session yesterday, Senior Principal State Attorney Lino Anguzu submitted to court documents they intend to rely on to pin the accused.

"My Lord, we are praying for a hearing date since we have already disclosed the evidence we intend to rely on against the accused persons during trial," Anguzu requested.

The judge also directed that Mbuthia be taken to Mulago Heart Institute for medical examination over alleged heart complications.

This was after Mbuthia, through his lawyer Evans Ochieng, made an application seeking medical examination on grounds that his client is reputedly suffering from heart disease and need urgent medical attention.

Prosecution alleges that the group and others still at large between March 1, 2016 and March 16, 2016 while at Luzira Upper Prison for purposes of influencing the government allegedly had in their possession materials (literature) for promoting terrorism.

The state claims that the said literature was retrieved from the suspects by prison warders during their routine searches at Luzira upper prison East Wing.

According to the indictment, the literature contained descriptions and instructions on how to successfully carry out terror attacks, criteria for target choice, personal identification and surveillance and appropriate weapons for a given attack.

However, defence lawyers Caleb Alaka and Ocheing contends that the said documents were part of the documents the prosecution served to us during trial.

"How can that be terrorism? The DPP is abusing office and they will be embarrassed during trial because we have evidence that the documents forms part of evidence disclosed to us," Alaka said.