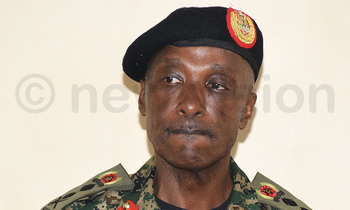 The army court is today expected to hear a bail application filed by the former Inspector General of Police, Gen. Kale Kayihura.
Kayihura was last Friday arraigned before the General Court Martial (GCM) in Makindye and charged with two counts of failure to protect war materials and one of aiding the kidnap and illegal repatriation of Rwandan nationals.
The charge of failure to protect war material attracts a maximum penalty of death, on conviction while aiding or abetting kidnapping 10-years-imprisonment.
Prosecution led by Maj Raphael Mugisha alleges that Kayihura between 2010 and 2018 on various occasions allowed the use of arms to unauthorised persons to with members of Boda Boda 2010. The group is led by Abdullah Kitatta, who together with others, is facing charges of illegal possession of army equipment in the same court.
Ii is further alleged that Kayihura while still police chief failed to provide accountability of arms that were under the elite units namely; the Flying Squad Unit (FSU), Special Operations Unit (SOU), Witness Protection Unit (WPU) and Directorate of Crime Intelligence (DCI).
All the unit commanders have since been arrested and are detained in Makindye military barracks apart from Jonathan Baroza, who led WPU. Baroza abandoned his duty station in Algeria and he has since fled to an unknown destination.
The other unit commanders arrested are; Herbert Muhangi (FSU), Nickson Agasirwe (SOU) and Lt. Col. Ndahura Atwooki (DCI). All of these officers have since been replaced.
Prosecution also alleges that Gen. Kayihura, between 2012 and 2016, by omission or commission aided police officers to kidnap and repatriate Rwandan exiles to Rwanda to wit (namely) Lt. Joel Mutabazi (former aide to Rwanda's President, Paul Kagame), Jackson Kalemera, and Innocent Kariisa.
Earlier, seven policemen, including two senior officers, were charged at the army court with kidnapping and repatriating Mutabazi and Kalemera back to Rwanda.
The policemen are; Joel Aguma, the ex-commandant of the Police's Professional Standards Unit, Agasirwe (SOU), James Magada, Benon Atwebembeire, Abel Tumukunde, Faisal Katende and Amon Kwarisima.
The policemen were charged alongside a Rwandan army officer, Rene Rutagungira and a Congolese, Pacifique Bahati Mugenga alias Ilunga Monga. They also denied the charges.