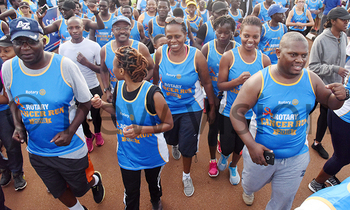 PIC: Participants during the 2018 Centenary Bank Rotary Cancer Run, Kololo Ceremonial Grounds. (Credit: Richard Sanya)

HEALTH

KAMPALA - Thousands of Ugandans converged at Kololo Independence ceremonial grounds, Saturday morning ahead of the 2018 Rotary Cancer Run.

The event had over 30, 000 participants take part in the run that started and ended at the Kololo Independence ceremonial grounds.

The money raised from the run will be used to buy two linear accelerators, one of the most modern cancer treatment machines in the world and their bunker at Nsambya Hospital.


Participants at the 2018 Centenary Bank Rotary Cancer Run warm-up. (Credit: Richard Sanya)


Nuns during the 2018 Centenary Bank Rotary Cancer run on August 26,2018.(Credit: Richard Sanya)


A participant at the 2018 event gets a message after the run. ( Credit: Richard Sanya)