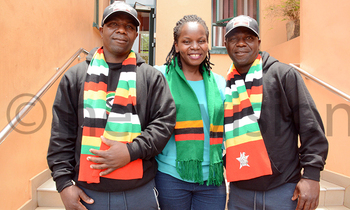 PIC: The Zimbabwe twins, Gift Petro, and Pachawo Petro with New Vision's Penelope Nankunda at Vision Group's head offices. (Credit: Eddie Ssejjoba)

TWINS FESTIVAL

KAMPALA - Twenty-year-old Gift Petro and Pachawo Petro jetted in Saturday to grace the fifth edition of the Kampala Twins Festival organised by Vision Group.

The festival themed Twins Got Talent, will see participants take part in numerous fun-packed activities on Sunday at Mandela Stadium, Namboole.

The entrance fee is sh10,000.
Zimbabwe twins with Newvision's editors, Hillary Bainemigisha (left), Penelope Nankunda (centre) and Felix Osike. (Credit: Eddie Ssejjoba)


The Zimbabwean pair were flown in courtesy of RwandAir and will spend their time in Uganda at Urban by CityBlue Hotel in Nakasero, Kampala.

Both RwandaAir and CityBlue Hotel have partnered with the Kampala Twins
Festival to ensure the visiting twins enjoy the festival.

Gift and Pachawo are in Uganda on behalf of the Zimbabwe Twins Foundation, an organisation representing all the twins and multiple births in Zimbabwe regardless of race, religion, political background and culture.
The twins have a light moment with New Vision's weekend editors; Hilary Bainemigisha and Felix Osike. (Credit: Eddie Ssejjoba)


"We formed the organisation in 2009 after discovering that there is need to represent these unique births in Zimbabwe, and encourage other twins and multiple births to come up and register to be part of this non-profit making organisation," Pachawo said.

The twins hope to promote cultural exchange activities between Uganda and Zimbabwe.

"This will be our dream trip, meeting up with other regional (African) twins and multiple births," Gift said.