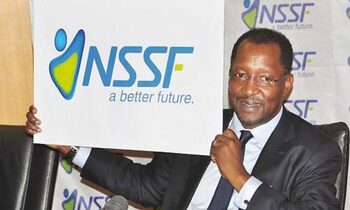 PIC: NSSF managing director, Richard Byarugaba. (File photo)

SAVING

By Ali Twaha

KAMPALA - The National Social Security Fund (NSSF) has recorded a 14% increase in member contributions, largely driven by new innovative ways of attracting members and improved compliance levels.

According to the fund's financial performance for 2017/18, records show that contribution hit the sh1.05 trillion mark up, from sh917b the previous year.

This is the first time that savers' contributions have crossed the over a trillion threshold.

In 2017, NSSF launched a voluntary membership scheme to recruit clients from the informal sector as a means to rope in more members.

As a result, the fund has managed to collect sh7b in voluntary contribution from 10,000 new members driven by mobile money platforms.

The Fund is also announced that it will be reducing on the number of physical branches to cut back on operational costs.

"We have not grown more efficient in the way we do business. But we have maintained the required discipline we made and we continue to focus on creating value for our members at a low cost," NSSF managing director, Richard Byarugaba told journalists on Wednesday.

He continued: "The cost to income ratio has declined by 1% to 12.6% for the financial year 2017/2018 from 13.4% the previous financial year.

"Meanwhile, the Fund's total assets also hit sh9.8 trillion as at June 2018, representing a 26% increase from sh7.2 trillion the previous year. Incomes also grew to sh1.6trillion in 2017/18, representing a 77% growth in the period under review.