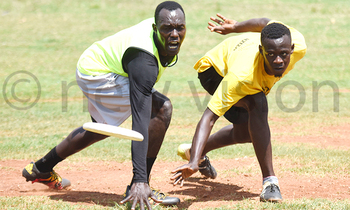 PIC: Impala's Allan Amone (green) in action against Entebbe Bulls. (Credit: Richard Sanya)

FRIESBEE
UUFA mini League

Results

Impala 5 Entebbe Bulls 4

Magnum Opus 6 Entebbe Sharks 5

Entebbe Bulls 11 Hammers Ultimate 0

Magnum Opus 1 Impala 7

Hammers Ultimate 0 Magnum Opus 11

Impala 8 Entebbe Sharks 1

Entebbe Bulls 7 Magnum Opus 3

Hammers Ultimate 0 Entebbe Sharks 11

Hammers Ultimate 0 Impala 11

Entebbe Bulls 7 Entebbe Sharks 2

KAMPALA - The inaugural Uganda ultimate Frisbee Mini League presents a new understanding of the game in Uganda.

For this particular exciting game of discs, growth may not come in giant leaps but, in a realistic point of view, the game is taking a positive direction with a series of innovations offering a new lease of life.

Generally, the federation is pegged back by a lack of sponsorships and still this is not shooting down their ambitions.
Impala's Rebecca Liebschutz reaches for the disc. (Credit:Richard Sanya)

The Mini League is born out of these novel ideas and with three rounds finished the innovation continues to receive applauds from the rank and file of the game.

"This is one of the opportunities that keep us employed in the game throughout the year. it improves on consistency and this is what we strive for" said Jane Gakuru, a member of Magnum Opus.

As it stands, the league is rather a two horse race with Entebbe Bulls and Impala leading the race for the inaugural title.

The former are top of the standings having returned the most wins so far (12) and have drawn twice and lost once.

Impala have won a second best total of nine games inspite of losing six games.

Conversely, they turned the tables on the giants in Entebbe Bulls defeating them 5-4 in what was a very close exciting encounter Saturday at UMA Grounds, Lugogo.

With the league in the business end, it remains to be seen who will make history by winning the very first edition .

EMAIL:kbalikuddembe@newvision.co.ug

TWITTER: @casozi14