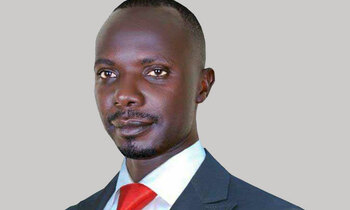 ARUA MUNICIPALITY BY-ELECTION

The driver of Kyadondo East MP Robert Kyagulanyi (aka Bobi Wine) was buried Wednesday at his ancestral home in Sango-Buwama, off Kampala-Masaka road in Mpigi district.

A group of youths rode motorcycles from Kiteezi to Buwama to pay tribute to Yasin Kawuma. They described him as a social, kind and hardworking person, who loved seeing the youth get a better future.

Kawuma's life was snuffed out several miles away from home on the last day of campaigns in the Arua Municipality by-election Monday evening. Eventually, independent candidate Kassiano Wadri was announced winner late Wednesday after beating 11 others in arace to replace slain legistlator Ibrahim Abiriga.

Kawuma was shot dead inside Bobi Wine's vehicle amid a series of chaotic events that unfurled in Arua as candidates scrambled for last-minute votes in a very competitite battle.

He was a political activist within the Uganda Young Democrats, a youth wing of the Democratic Party (DP), who had been campaigning for parliamentary candidates for Opposition political parties countrywide.

He had gone as a driver of Mityana Municipality MP, Francis Zaake, who had to campaign for former Terego County MP Kassiano Wadri.

Wadri contested for the Arua Municipality seat on an independent ticket.

It s said Kawuma was part of a group of young politicians who had been moving from constituency to constituency campaigning for Opposition candidates, in what they described as political activism to "liberate Uganda".

Batulumawo Kabuga, the Kiteezi parish councilor in Kasangati Town Council, Wakiso district, said that this time, Kawuma was invited by Bobi Wine to drive Zaake to Arua.

While there, he continued to drive him to campaign rallies.


A trail of victories

During the 2016 presidential campaigns, according to Kabuga, the Kawuma crossed from DP to join President Yoweri Museveni's long-time political challenger Dr Kizza Besigye of the FDC.

But at the time of his death, he had reportedly made a U-turn back to DP and was part of the group that traversed constituencies to campaign for both DP and FDC candidates.

He also campaigned for Brenda Nabukenya, who would go on to lose the Luwero district Woman MP seat to NRM's Lillian Nakate.

Kawuma also campaigned for Butambala County MP Muwanga Kivumbi, who defeated NRM's Faisal Kikulukunyu.

He was on the campaign team of Paul Mwiru, the FDC candidate in the Jinja Municipality race. Mwiru would eventually reign supreme over his main challenger, NRM's Nathan Igeme Nabeta.

Kawuma was involved in JEEMA candidate Asuman Basalirwa's victorious participation in the hotly contested Bugiri Municipality race.

In Bugiri, according to colleagues, Kawuma was one of the drivers for the heavy trucks that Bobi Wine used in the campaigns to woo support for Basalirwa.

According to Kiteezi parish councilor Kabuga, during the LC1 elections, Kawuma stood down for his brother, Sabiiti Male, in for Lusanja village race in Kiteezi parish. He had even printed campaign posters. After paving way for his sibling, Kawuma rallied behind him to win the seat.


Passion for football

Kawuma was a mobiliser for the youth and a soccer lover.

He formed a football academy based at Lusanja Church of Uganda Primary School, known as Kiteezi Soccer Academy, where he would mobilise holidaymakers and trained them in football.
Many current boys in his soccer academy turned up at his home in Lusanja on Wednesday dressed in football jerseys to pay respect to him. Several other youths revealed they had gained skills in football because of his coaching.

Multitasking

According to Godfrey Ssekabira, a councilor in Kasangati, Kawuma also mobilised many youth to abandon smoking marijuana and using other drugs.

He instead connected them to get jobs at service contracts, where they got to work at trucks ferrying sand, stones and timber.

Kawuma was a tenderer for Wakiso district and a service provider. He owned the tender of collecting dues from washing bays and night parking facilities in the town council.

Before becoming a service provider, Kawuma was also a property dealer in Lusanja and was attached to a number of property companies.

He was also a hire truck driver and before, he was a tenderer for Kiteezi Taxi Stage.

During the Kyadondo East by-election, Kawuma joined the 'Team Kyagulanyi Ssentamu' and was involved in the pinning posters and mobilising the youths for Bobi Wine during the door-to-door campaign.

He was also a driver of Kasangati town mayor Tony Ssempebwa.

Kawuma studied went to Kiteezi Church of Uganda Primary School, before joining Kwwempe Muslim Secondary School for his secondary education.

He did not further his education and instead pursued the self-employment path.