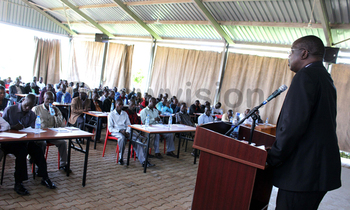 Okot-Okello (R) addressing the newly elected LC I and II chairpersons of Mpigi district. PHOTOS: Jeff Andrew Lule
The newly elected Local Council (LC) chairpersons have been trained on how to promote effective service delivery within their respective communities.

The Commissioner District Administration in the Ministry of Local Government, Paul Okot-Okello said a number of government programmes had failed due to poor inspection and monitoring.

"It is part of your duties as local leaders to ensure that programmes introduced in various areas are implemented as planned to benefit the communities. This can be achieved when you change your mindset," he noted.

Okello made the remarks while opening the induction on mindset change for the newly elected LC1 and II chairpersons, and parish chiefs in Mpigi district at the National Farmers Leadership Centre in Kampiringisa on Tuesday. Mpigi has 339 villages and 56 parishes.

The training is funded by the Korean International Cooperation Agency (KOICA) through the Establishment of Saemaul Model Villages (ESMV) project in Uganda, with support from Mpigi district and Ministry of Local Government.
Some of the newly elected LC I and II chairpersons of Mpigi district posing for a group picture with the local government officials
Okello stressed that many countries in African have failed to develop due to the poor mindset of its people.

He said all local leaders are expected to keep in close contact and consult their people on various issues to be presented to relevant authorities for intervention.

The ESMV Project Manager, Jongho Bae said the training covers three topics including; leadership, practical farming skills and project management.

"We expect all leaders to go back and share the acquired practical skills within their community members to end poverty and change their people's mindset and improve their livelihood," he added.

The district Chief Administrative Officer, Lucy Amulen asked all elected leaders to lighting candles among their communities to effect change and improve people's livelihood.

"We want you to be the candles among your communities to show them what to do. You also have to follow up all government projects in your areas to ensure effective implementation," he noted.

She said LCs are the link between the people and government.

"With this training; you remain our agents of change. We expect to witness change among your communities to help government achieve the projected middle income status," Amulen noted.

She thanked the Korean government for the continued support to improve people's livelihoods.

The district vice chairperson, EL-Fatina Namuli asked the leaders to forget about politics and focus on development. Ends