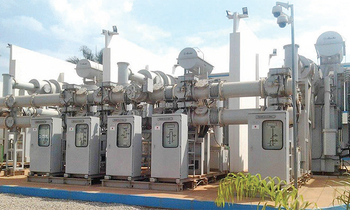 The Uganda Electricity Transmission Company Limited (UETCL) has upgraded the Queensway substation to increase its capacity in order to meet the growing energy needs of the Kampala central business district (KCBD). The substation, which previously operated at 33 kilovolt (KV) capacity level, was upgraded to 132KV capacity.
UETCL's mandate entails buying all electricity generated from different generation companies, such as Nalubaale, Kira and Bujagali power stations in the country, before selling it to different distribution companies in the country, the biggest of which is Umeme. It is the distribution companies that sell power to the final consumers. The substation is located on Entebbe Road and is expected to be commissioned later this week.
"The upgrade was intended to increase capacity and provide a reliable and efficient power supply," a UETCL company statement reads. The upgraded station will provide transmission infrastructure that will meet the medium and long-term load requirements of KCBD.
It was upgraded using a grant from the Japanese government, through the Japanese International Co-operation Agency (JICA), as a token of friendship and co-operation between the Japanese and Ugandan governments.
The substation was constructed in 1993 and over the years, its infrastructure had worn out due to the heavy load it had to serve. According to the company information, the substation was previously operating, at about 95% of its capacity with the equipment aged and obsolete, having served its life time of 15 years.
"KCBD has been dependant on the Queensway substation for power supply across the area. There have been frequent power breakdowns due to the use of old technology that could not support the power system, which in turn caused unreliable power supply," Pamela Byoruganda, the company's principal publicist, says.
CLICK HERE FOR MORE ON THIS STORY