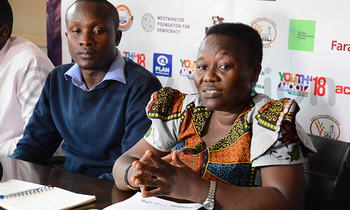 Over 300 youth from all regions of the country will converge at Parliamentary chambers to debate issues affecting them, in commemoration of International Youth Day celebrated on August 12 globally.
According to the programme director at Actionaid Uganda, Harriet Gimbo, the youth have been selected from across the country through youth organisations and Uganda Youth National Students Association.
Gimbo said the youth will engage in what has been dubbed 'Youth Moot Parliamentary Session 2018' to articulate critical issues such as Over the Top Service (OTT) tax, youth participation in decision making process regarding government programmes and sexual harassment which mostly affects female youth among others.
Gimbo made the remarks during a media briefing in Kampala adding that this year's youth celebrations are to be held under the theme 'Safe Spaces for Youth'.
"The youth will deliberate and make resolutions on the pressing issues affecting the young people from across the country, taking into account the Agenda 2030 commitments to which Uganda is a signatory and National Development Plan II (NDPII) aspirations, considering the crucial role that young people have played and continue to play in the development of Uganda," Gimbo said.
She emphasised that there is need to harness the demographic dividend, cognisant of the dire need for more economic and political safe spaces for meaningful participation of young men and women, amidst challenges such as global threats of terrorism.
Gimbo who was flanked by youth leaders of different youth organisations, outlined critical undertakings government, civil society, religious leaders and parents should do to support the youth, among them, investing in quality education, creating conducive environment for youth to do business, allowing youth to participate in decision making processes, ensure the safety of both female and male youth in work places and in schools, as well as protecting and conserving the environment.
Team leader Edwin Muhumuza said youth who are conversant with issues such as climate change, environment, politics and economy of the country and others were selected to represent their fellow youth across the country.
Speaker of Parliament Rebecca Kadaga is expected to preside over the parliamentary session on August 10.