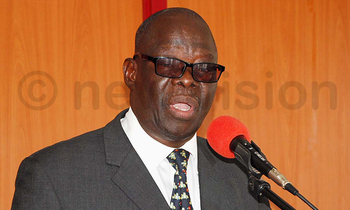 The Uganda People's Congress (UPC) has also told government to take up the role of engaging the youth productively in order to improve development in Uganda.
UPC national chairman Lawrence Eugirot Okae argued that due to scarce resources and income inequalities globally, too much pressure has shifted to the youth.
"There are very limited job opportunities thus creating a huge army of unemployed youth. It is evident that the youth are more energetic and productive if their potential is tapped," Okae said.
During the party's weekly press conference at Uganda House in Kampala on Wednesday, Okae suggested that government should attend to the youth's pressures before it is too late.
"Failure to attend to such types of youth triggers may catch the country off guard," he said.
According to Okae, the youth engage in activities of gambling because they do not get guidance on productivity from government.
"There is need to first identify the problems surrounding young people," he added.
He advised that government should take the mantle of organising the youth and identifying the beneficial activities that they should do other than concentrating on blaming them.
Okae noted that as the world marks the International Youth Day, government should deeply understand what triggered the Arab Spring in North Africa.
"A youth who was faced with challenging socioeconomic conditions opted to take his life because he could not take it anymore. The rest joined in solidarity to condemn the Tunisian government for being insensitive. This led to the collapse of government," he explained.
Okae added that it is this type of experience that government should avoid at whatever cost, by rolling out policies that are sensitive to the needs of the youth.
"We should immediately implement the theme of the International Youth Day, by creating more space for the youth and making them an integral part of our social, political and economic development," he advised.
On August 12, 2018, Uganda will join the rest of the world to celebrate the International Youth Day under the theme, 'Safe Space for the Youth' at Kampiringisa, Mpigi district.