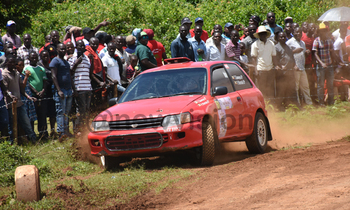 September 7-9 in Hoima

UMOSPOC Kabalega rally

Preparations for the UMOSPOC Kabalega Rally due on September, 7 to 9 in Hoima are in their final stages and the National Road Safety officials have finishing inspecting the routes for the event in the Bunyoro Kitara region.

The event has also been boosted by Grand Praclos Hotel of Mukono and Kontik Hotel in Hoima and SBI International Holdings which have partnered with UMOSPOC.

The hotels will accommodate the drivers and officials during the three-day event.

The Kabalega Rally is the sixth round and second last of the National Rally Championship (NRC).

Clerk of the Course (COC), Justin Mungoma confirmed the development saying, "We have got the support of the three companies and we are looking for others."

"The National road safety team has already inspected our routes and we shall be officially launching the event next week," Mungoma stressed adding that so far twelve drivers including Shell V-Power sponsored driver Ronald Ssebuguzi, Timothy Gawaya, Christakis Fitidis and female driver Suzan Muwonge have confirmed their participation.