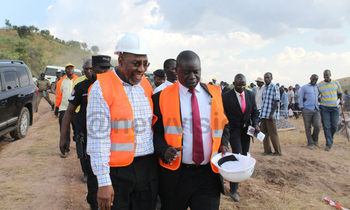 Kamurari (right) chatting with Rugunda
The Isingiro district LC5 chairperson, Jeremiah Kamurari has publically apologised for inciting locals against refugees in Nakivale refugee camp.

Last year, Isingiro residents attacked refugees in Nakivale Refugee Camp accusing them of encroaching and stealing their land. They were allegedly led by their district chairperson Kamurari.

However, on Thursday, Kamurari came out and apologised to the refugees and promised never to incite the locals against them.

His apology came after the government put aside sh2.9b to improve the conditions of the host communities in Isingiro district.

"This is the first time since we started hosting refugees that we have also benefited. We are going to start working with them very well. I would now like to apologise for the fighting I have had with the refugees," Kamurari said.

The funding to Isingiro is under the Development Response to Displacement Impact Project (DRDIP) that is also running in other refugees hosting districts in the country.

Last week, Uganda's Prime Minister Ruhakana Rugunda launched the project at a function held in Kyarugaju in Isingiro district.

Rugunda commended the LC5 for apologising and challenged him to promote peace and cohesion among the communities and refugees.
Kamurari with his councillors

"Being a refugee is not a choice, people are forced to move. I'm so grateful to the people of Isingiro for being good to our brothers and sisters (refugees). Thank you chairman for this gesture and promising to work with the refugees," Rugunda said.

For a long time, Uganda has been hosting refugees, but host communities have never had any program dedicated to improvement of their lives.

Under the project that is being funded by the World Bank, Isingiro will get an Out Patients Department and maternity ward installed with a lightening protection, a 10,000ltr rain water harvesting tank, a solar power unit, a latrine and placenta pit at Kyarugaju Health Center II.

"This health center had been condemned after its only building developed cracks. We are now going to get better ones and I want to thank government for finally remembering us the people of Kyarugaju," said Edith Kwarisima

Government will also build six classroom blocks at six primary schools. The classroom blocks will be installed with lightning conductors and desks. Each school will also get two 10,000 stainless steel water tanks and 13 blocks of 5 stance latrines.

The benefiting schools are; Kamubeizi PS, Nyabyondo PS, Kamengo PS, Kamutomo PS, Guma Memorial PS and Burigi Church of Uganda PS.

The construction of the health center is expected to last six months.

Isingiro district has population of 492,116 people with refugees accounting 19% of this at 112,624 refugees.

The refugees are mainly concentrated in Nakivale Refugee Camp.