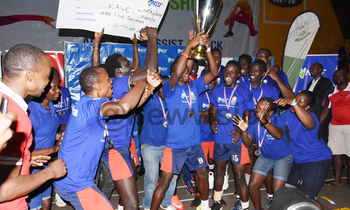 It was an all Ugandan affair as KAVC and Ndejje University Elite lifted the NSSF KAVC International Volleyball tournament on Sunday at Lugogo Indoor Stadium.

KAVC who last won the trophy in 2011, beat Kenya's APR 3-0 in the semi-final before stopping Rwanda's Gisagara Volleyball Club 3-2 in a tightly contested final.

KAVC technical director Shilla Omuriwe attributed the victory to good planning.

"As a club, we have had so many ups and downs trying to win it. We came very close last year, but we finished third, so I told the boys surely this will be our year," Omuriwe said.

To coach David Okot, it was discipline that gave them victory.

"At 13-9, our opponents needed concentration to get the two points needed to seal their win, but they started contesting referee calls and quarrelling which denied them a trophy," Okot said.
NSSF deputy MD hands over the women trophy to Champions Ndejje University
Ndejje also majestically took care of business against Rwanda Revenue Authority in the group stages something that gave them confidenceyo go on and win.

Nkumba University's superior performance at the Genocide Memorial tournament was the indicator that this could be Uganda's year. This weekend, there were no less than three Ugandan women's teams in the semi-final which indicates an improvement from last year.

Past winners

2018 Winners

Men:

KAVC -Uganda

Women:

Ndejje Elite-Uganda

2017

Men: PR Rwanda

Women: Rwanda Revenue.

2016:

Men: Kigali University

Women: Aspire -Kenya

2015:

Men: Inatek-Rwanda

Women: Rwanda Revenue

2014:

Men: Sky-Uganda

Women: Rwanda Revenue

2013:

Men: Inatek-Rwanda

Women: Nkumba-Uganda

2012:

Men: SportS -Uganda

Women: KCC VC-Uganda

2011:

Men: KAVC -Uganda

Women: KCC VC -Uganda

2010:

Men: Muzinga-Burundi

Women: KCC VC-Uganda