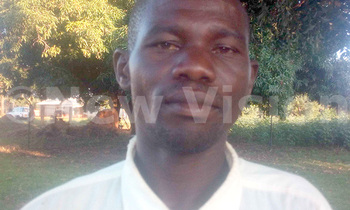 PIC: Ogwal of NRM has petitioned against the LC1 elections in his village. (Credit: Michael Onyinge)
LC1 ELECTIONS
KABERAMAIDO- An LC1 candidate who lost the recently concluded elections has gone to court to seek redress.

Robert Ogwal, who contested as the LC1 candidate of Imakioroch village, Kagaa parish, Ochero sub-county in Kaberamaido district on NRM ticket claims that; the election of the LC1 chairperson in his village was not conducted well.

Ogwal has already filled his case in Kaberamaido chief magistrates' court where the Grade One magistrate, Evarest Faith Palodi, has appended his signature to acknowledge its receipt.

The civil suit that has been given number 002/2018 has Robert Ogwal as a plaintiff where Charles Ojuku, the electoral commission of Kaberamaido and Nasuru Okwanga are defendants.

Ojuku is the LC3 of Ochero sub-county while the electoral commission is an organ mandated to organise elections in Uganda as Okwanga is the newly elected LC1 of Imakioroch village.

The civil suit gives the three defendants fifteen days to file their defenses or else, judgment can be made by court, even in their absence.

Ogwal claimed that the first defendant; Ojuku, interfered with the elections in that since he was not a registered voter, he wanted to force himself and others to get registered on the day of voting which was against the law.

He also claimed that Ojuku assumed the roles of the presiding officer by counting voters and declaring results contrary to the set rules of elections.

Ogwal further claimed that, Ojuku, who is the LC3 chairperson of Ochero sub-county intimidated the voters by forcing some of them to cross from his lines to that of his opponent, making him to lose the election.

He also claimed in his plaint that the second defendant; the electoral commission through the presiding officer was negligent after having been intimidated by Ojuku and failed to do its right work.

Meanwhile, the third defendant, Okwanga is being alleged to have worked with Ojuku to cause him win the elections.

Ogwal said much as the sub-county supervisor of Ochero came in to reset them for elections, it was too late since his voters had already left the polling station.

Meanwhile, the district registrar who is even the district returning officer of Kaberamaido, Samson Omuron, said he had not received his copy. Omuron said if he received his copy, he would reply it.

On the other side, Ojuku claimed that there were some people who were using Ogwal to spoil his political career.

He said since he belonged to the Forum for Democratic Change (FDC) party, there were some people in the NRM party who want to see him lose his seat.

"This is just a political war. Who is that LC1 candidate that you have seen going to court after losing? It is only him (Ogwal). He is not even the one doing all these, but there are other people behind him", Ojuku said.

He added: Ogwal has his rights to go to court and I will appear to defend myself.

The presiding officer who oversaw the elections at Imakioroch village, Justin Ediu, in his letter said during the first round of counting voters, both Ogwal and Okwanga had an equal number of ninety three voters.

Later, it is said that, when the sub-county supervisor of Ochero came to oversee the elections, he asked both candidates to stand in their lines for the second time, but Ogwal refused, saying his voters had been intimidated and had gone back to their homes.

Okwanga on his side accepted to stand and people lined up behind him making him to be declared the winner by the sub-county supervisor.

Ogwal now wants court to declare the elections in his village of Imakioroch to be null and void and have him declared the winner.

He also wants court to have judgment against the defendants and have costs of the suit provided.

Ogwal also prays to court to give the punishment to the defendants as it will deem it fit.

Ogwal becomes the first LC1 candidate to file an election petition after losing elections.