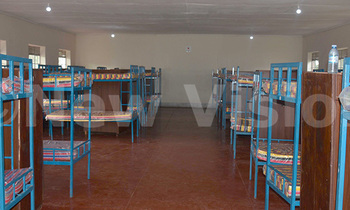 PIC: A girls' dormitory at Kahinju Secondary School in Fort Portal, whose construction was funded by the Japanese
The ambassador of Japan in Uganda, Kazuaki Kameda, led delegates from the embassy of Japan and Japan International Co-operation Agency (JICA) to inspect Japanese funded projects in Western Uganda.
Amongst the districts in western Uganda are Buhweju,Buliisa, Bushenyi, Ibanda, Isingiro Kabale, Kasese, Kisoro, Kyenjojo, Mbarara, Rukungiri and Sheema.
The projects funded by the Government of Japan target rehabilitation of infrastructure, urban basic services such as roads, water, and electricity and they target the grassroot person.
"Our projects are devoted towards the local people in order to uplift their incomes and transform there lives," Kameda said.
PIC: Kameda (left) with delegates during inspection of Japanese funded projects in Western Uganda
Ambassador Kameda also meet with the beneficiaries from the projects
He was accompanied by the Minister for Karamoja affairs John Byabagambi and Minister for defence and veterinary affairs Bright Rwamirama.
The construction of a girls dormitory at Kahinju Secondary School, an urban water facility at Ryeru Sub county, a mini irrigation scheme in Kasese district are among the projects the teams inspected.
A total of $ 18.4m has been spent by Japan on 235 projects in western Uganda.
Ambassador Kameda assured Ugandans of Japan's willingness to support development projects.
Various persons, who have received funding from the Japanese, gave testimonials and explained the challenges they were facing in implementing their projects.
PIC: Japanese volunteers pose for a group photo during the inspection
John Mubangizi, the Rubirizi district vice chairman commended Japan for establishing a safe water system in Mushambo parish.
"Our people can now access clean water after decades of suffering getting water from crater lakes and other unsafe sources," Mubangizi said.
Volunteers from Japan who are working at grassroot level offering technical assistance to Ugandans also explained their contribution to Uganda.
Obama Ryota a Japanese volunteer teaching chemistry at Bubangizi Senior School in Mitooma District revealed that poor attitude to science subjects is a big challenge leading poor performance.
Over 60 volunteers from Japan are involved in different projects in Uganda.