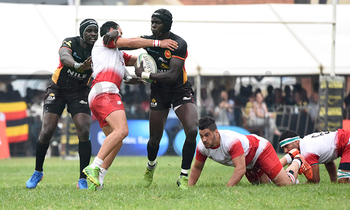 Rugby Africa Gold Cup: Uganda v Tunisia
Phillip Wokorach and the Rugby Cranes ran riot when Uganda and Tunisia crossed paths in the Africa Rugby Gold Cup just over a year ago.
Wokorach scored a hattrick as Uganda raced to 12 tries in a historical 78-17 victory at Legends that is still the Rugby Cranes biggest victory ever.
That a repeat result is not expected from today's reunion between the two teams at Kyadondo goes without saying.
There have been quite a number of changes, starting with the fact that Tunisia are expected to field a much stronger side than the one they brought last year when a standoff between the country's senior internationals and the rugby authority limited their selection options.
By contrast, the Cranes come into this match with a slight measure of upheaval after star fly half Ivan Magomu was slapped with a one-match ban for violating team rules when he played for the Pirates in National 7s circuit Coronation Cup at Legends last Saturday.
Magomu will be replaced in the starting line-up by Buffaloes Robert Masinde, a switch that will undoubtedly give the side a new dimension albeit one that is probably less potent.
Still, it remains to be seen how much Tunisia, who are third in the standings with four points, have bridged the yawning gap that Uganda exposed with last year's mammoth win.
Moreover the Cranes have a point to prove after their poor start to this year's edition that suggested Uganda has fallen behind rather than gotten closer to Namibia and Kenya.