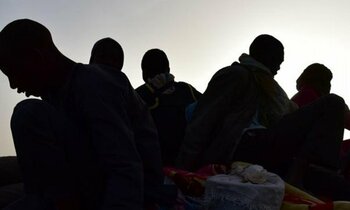 HUMAN TRAFFICKING

KAMPALA - Security officials in Uganda have revealed that scrupulous officials at Jomo Kenyatta International airport in Kenya connive with human traffickers.
According to reports, the traffickers, with the help of the officials tend to forge Ugandan passports, Visa and immigration stamps to sneak out girls to Middle East countries for slavery.

The revelation was made by commissioner of the Police as well as coordinator prevention of trafficking of persons in the ministry of Internal Affairs Uganda, Moses Binoga at Maisha Hotel Lwakhakha border point in Namisindwa district.

The meeting organised by Ministry of Internal Affairs attracted security officials from both countries; Uganda and Kenya to discuss a proposal for joint undertaking to prevent human trafficking through a harmonised system on identification, interception and management of identified victims of trafficking between the two countries.

"Trafficking of girls is done at national and transnational level and most of our girls are sneaked out through Jomo Kenyatta internal airport with the help of officials at the airport who forge travel documents," Binoga said.

"We have reliable intelligence that passports, Visas and immigration stamps are forged on Kenya side to aid traffickers sneak out girls to Oman and other Middle East countries. Officials at the Airport have racket with traffickers," Binoga added.

In his opening speech, Binoga said girls are at times sneaked out from Uganda through porous border in Lwakhakha, Namisindwa district where they wait for people in Kenya that give them money to Nairobi and they are confined in a hideout for three days.

"Our intelligence reveals that in the three days the traffickers are striking deals with officials at the airport to see how the trafficked victims will get their forged documents to move out of the country.

"Some of the girls that have been rescued at Kenyatta International airport have narrated and told us how its racket direct from Uganda immigration officials that coordinate with traffickers," he added.

Binoga said that one official at Lwakhakha boarder point was nabbed and fired over forgeries of stamps and other documents with the aim of aiding traffickers.

Binoga also lamented the challenge Ugandan government is facing to rescue traffickers victims that had been intercepted by Kenyan authorities, adding that their counterparts in most cases they treat the victims as illegal immigrants.

He said that there is syndicate of criminal groups between the two countries that are well coordinated for illegal recruitments, adding that culprits that aid traffickers to forge immigration documents should be charged.

"We appeal to Kenyan authorities to protect trafficker victims when intercepted and also demand that let the culprits aid traffickers to forge immigration documents be imprisoned seven years as it's done in Uganda," Binoga said.
The commissioner of the Police and coordinator prevention of trafficking of persons in the ministry of Internal Affairs, Uganda, Moses Binoga with some of the security officials from both Uganda and Kenya after the meeting held at Maisha Hotel Lwakhakha border point in Namisindwa district. (Credit: Paul Watala)

He appealed to Ugandans who want to travel abroad for jobs to contact licensed companies to avoid being duped by conmen, adding that Uganda has got one hundred licensed companies.

He also appealed to Kenyan authorities cooperate to intercept Ugandans who may want to use their services without certified job certificates and be handed over to Ugandan authorities.

According to Namisindwa Resident District Commissioner, Robert Mutome, over 200 people cross into Kenya through porous border point on a daily basis.

He also warned local leaders in Namisindwa against aiding the traffickers to sneak out girls, adding that the girls are charged between sh500,000 to sh1.5m to be taken out of the country.

The officials from the two countries agreed and formed a joint team that will help in fighting traffickers and sensitize the locals about the challenges their children face when they are sneaked out to do slavery.

Anthony Matharaa, the Officer in charge Bungoma West Kenya apologised to the Ugandan government over claims of mistreated victims and pledged total cooperation between the two countries.

"We now pledge total cooperation and also appeal that let the people that have been intercepted open up to security agencies. Some of the victims are trained not to open up," Matharaa said.

Matharaa also appealed for information sharing as far as the fight against the traffickers is concerned, adding that gap for information sharing between the two countries frustrates the efforts to deal with the culprits.

Matharaa also noted that some of the discussed issues were beyond their capacity to handle and promised to forward them to the relevant authorities in the Kenyan government that can be discussed at a higher level.