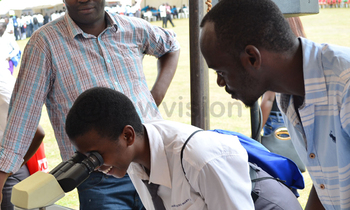 In an effort to encourage students to embrace science, the Uganda Virus Research institute has organised a Science Open Day to help young people to learn more about science and health research.

Prof. Pontiano Kaleebu, the director of the Uganda Virus Research Institute (UVRI) as well as the director of MRC/UVRI Uganda Research Unit noted that organising such events is one way of supporting the government policy of prioritising and promoting science subjects in Uganda's education system.

"We want to see young Ugandan scientists emerging who can deal with the health issues in the country and in Africa as a whole. This will help young scientists to be able to link basic science to the field and the clinic," he explained.

He added that to to train more scientists, there is need to interest a lot of young people into science.
Dr. Nassim Kyakuwa of the Medical Research Council Senior Technologist explaining to students how infections are detected
Dr. John Chrysostom Muyingo, the Minister of State for Higher Education has decried the reluctance of most students to offer science subjects.

"I believe this is the best way to attract more students to love science subjects. We have changed our policies in order to have more scientists, but less continues to do them," he said.

The Science Open Day was held under the theme: "Science for a Healthy World" and it attracted more than 1,000 students including those from Arua and Kapchorwa districts.