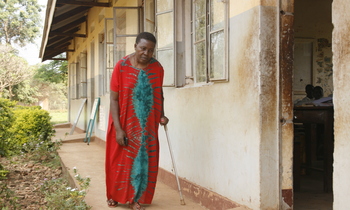 The bell in the middle of the compound sounded thrice. It was 2:40pm, which signaled change of lesson at Karujubu Primary School in Masindi municipality, Masindi district.

Teacher Jane Frances Isyabi slowly hobbled out the staffroom. She walked with a gait: head slanted forwards with a little bend, carefully measuring every step she took. She supported herself on a clutch.

The 57-year-old teacher of Mathematics was involved in a traffic accident in 2010, which left the entirety of her right side — right rib cage and limbs and pelvis, almost paralyzed. But she has never known any other job; and so every when she can muster some ounce of energy she determinedly trudges to the school — located about three kilometers from her home.


The Primary Seven classroom is only a unit away from the staffroom. But because of the discomfort — noticeable every time the ageing teacher puts a leg forward, she takes in excess of four minutes to reach the concrete class.

"She is so determined. If she can lift her head from the pillow then you know she will be at school," head teacher Esther Ahurra says.

Then, she is passionate about the children. More obsessive. Even when she is at her home bedridden, when she cannot summon strength to leave bed, she will ask people around about her pupils. How they are coping.

Other teachers at the school have nicknamed her "The Consultant".

Teacher Jane (as she is widely referred to at this school) is so good about almost everything Mathematics; a number of teachers at this school go to her when they encounter numeracy problems they cannot solve.

"She will show you that the problem was actually easy. She will show you another approach to solving it, and how best to go around it when dealing with pupils," Jacqueline Tibetekemwa, fellow teacher of Mathematics, says.

"It is a pity she fell off a boda boda (motorcycle) and for eight years she has not received appropriate treatment to correct her legs and arms," she goes on.

Great service
Inside class, she is a gem. She knows all pupils by name. Immediately she 'clutches' her way in, the more than 30 pupils inside the classroom all rise to welcome her. "Good afternoon teacher."

Then one girl walks to the chalkboard to clean it. Teacher Jane cannot commence lesson unless the entire chalkboard is clean. The girl, thereafter, indicates the day's date on the extreme upper left corner of the board, in the margin.

For this particular lesson, which I attended, Teacher Jane was showing her pupils how to draw a sketch of four equal sides. She invited three pupils to the chalkboard to role play. She insisted the pupils draw their lines straight. After the pupils were through with their drawings, she slowly helped herself to the chalkboard to illustrate the ideal square she preferred the pupils to emulate.

"When pupils learn (Mathematics) by comparing their work to that of their teacher, it draws mental images in their brain, which are maintained and unlikely to be forgotten," Teacher Jane says.

"When I teach Mathematics, I want my pupils to understand; how I arrived at the solution, not simply to memorize formulas. That is the mistake many teachers make (leading-on pupils to cram formulas), and end up labelling such a beautiful subject as boring."

She clearly wants her pupils to enjoy the subject.
"When I am unable to stand, I go to class with another teacher (usually Jacqueline). So, I talk as she (Jacqueline) illustrates what I am saying on the chalkboard," says the teacher.

She may be 57, with bits of grey hairs sprouting out her well-trimmed black hair, but she is clearly not tired. Not yet. Her only discomposure is the pain in her limbs which cannot go away.

For this particular day, she stays at school until 6:00pm... offering additional help to Primary Seven pupils who will sit their PLE (Primary Leaving Examinations) later this year, in October/November.

She keeps a white rosary around her neck and hopes for divine intervention to keep her going. "I have been to hospitals. At first, the doctors said I had high blood pressure and that I could have suffered a stroke."

So, she took the medicines.
But a scan of the head and vertebral column at Mulago National Referral Hospital early this year indicated the teacher had a rare malfunction in her spine. Some bones that make her vertebrae especially at the base of the head and then in the middle and near the tail-end of the spine, to support the pelvis are damaged and require surgery.

Dr. Michael Edgar Muhumuza, a senior consultant neurosurgeon at Mulago recommended spine surgery at Yashoda Hospital in India. The decision was approved by the Uganda Medical Board. But this would require in excess of sh90m. The primary school teacher does not have that money.

So, she keeps at her home with her daughter Mable Basemera, and trudges to school when she can leave bed. Her husband died shortly after her accident.

Sam Peter Ayebare, the inspector of schools in Masindi municipality, says there was a suggestion to retire Frances on medical grounds. But the teacher shot down the suggestion.

"She said no. That, as long as she could still speak, she would be in class," says the inspector of schools. "I have never seen anyone like her. She is an exceptional and exemplary woman."

Dr. George Bateganya, a former medical superintendent for Masindi district who helped refer the teacher to Mulago, wished there were better modes of transport in the vicinity she operates in.

"The roads are terrible. She cannot afford a taxi. So, she has to ride on a boda boda in her condition," says the medical officer, clearly sad.

Nonetheless, her pupils sing praise of her.

Abel Wembabazi, who will join Makerere University later this year to study a Bachelor of Dental Surgery, says teacher Jane Frances taught him one eternal virtue: to never think less of himself.

"She came to our school (Karujubu Primary School) when I was in P7. But I never believed I could do it. She would tell me over and over again that I had it in me…. that I was clever and only needed confidence…. That I was her best student."

It is a conviction the young man carries today. No one tells him that he is not good, and he accepts it.

Wembabazi was the best pupil at PLE in all of Masindi district. He was sponsored by Total to study his secondary at St. Mary's College Kisubi where he aced his A' level exams before getting the admission to Makerere.

A primary six pupil at the school, Sharon Kyategeka, says the teacher treats them like they were her children. "The way she talks to us, without shouting. I wish she was fine and didn't have to walk (with support)," says the little girl, sympathetically.

Who is Isyabi?
Jane Frances Isyabi started classroom work in 1985, after she completed her Grade III training at the then Kinyamasika Primary Teachers' College (PTC) in Fort Portal (Now Kinyamasika National Seminary).

But she could only be registered as a licensed teacher in 1996 after she repeated her Grade III exams at Kamurasi PTC in Masindi district. She had transcript issues with her initial results.

She taught at Kihande Moslem, Nyamigisa Girls, and Kyema primary schools, all in Masindi district, before enrolling for her Diploma in Primary Education at Kabalega National Teachers' College, also in Masindi district, in 2000. She was born in Budongo sub-county in Nyantonzi-Katungo (also Masindi district).

The teacher is highly revered in all these areas, and for good reason.

GOLDEN TIPS
Stay focused at all times

Be instrumental in your work

Always stand up for your community

Never lose hope