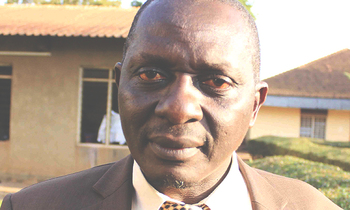 PIC: Dauda Lubega Sseguya, the principal of Kibuli PTC. (Credit: Denis Nsubuga)

INCOME

KAMPALA - With the commonly known diminutive pay for teachers, what can be done for a teacher to maintain a deserving livelihood amid increasing life demands?

Some educationists think individual talents can be one of the ways through which teachers can supplement their meagre incomes.

Muzaphal Kiyemba, a member on the education committee of Makindye Division, encouraged trainee teachers to discover and develop their talents in Music, dance, drama, Art and Sports, for they will be income streams during their careers of teaching.
Students at Kibuli PTC performing during the Cultural Gala on Friday. (Credit: Denis Nsubuga)

Speaking during a Cultural Gala at Kibuli Core Primary Teachers College on Friday, he mentioned a number of names in the drama and art industries who have earned from their talents besides their day jobs.

Among them was the judge of the Patrick Ssembusi, who is famed for acting in Luganda TV Dramas like Kigenyagenya of Bakayimbira Dramactors and several others with Alina Talents drama group.

"By developing such skills in student teachers, we are preparing them for a better teaching experience.

"It could be sports, art or home economics, these help teachers to forward the culture of co-curricular activities into their places of work- the schools," Kiyemba said at the function where students competed in Music, Dance and Drama.
Muzaphal Kiyemba, a member on the education committee of Makindye Division.(Credit: Denis Nsubuga)

PIC: Students of Kibuli PTC performing during the event
At the Intercultural competitions, students performed traditional and contemporary music and dance of different cultures for teachers, guests and fellow students.

Dauda Lubega Sseguya, the principal of Kibuli PTC, said the Intercultural MDD competitions are organised to help students showcase their talents.

He said to ensure teachers can help children in discovering and developing their talents, they themselves should have their own talents practiced.

"MDD is good for the children but it starts from the teachers, a teacher ought to know it before they pass it on to the learners.

"Teachers have to be exemplary to their students,'' he said, adding that it should start in teacher's training.

He further said such co-curricular activities help to maintain a healthy body and mind for the both the teachers and children, helping to create a vibrant study environment.

The function was held under the theme, Preventing Drug Abuse among the youth, of which Sseguya said drugs are major destructors of youthful lives.

Kazibwe Abasi, one of the spearheads of the program, said, "Teaching goes beyond class. It comprises things like grooming and nurturing skills.

It is better done in early years of a child. For a child to have good future, it all starts with a good foundation in primary school."