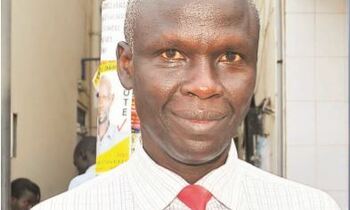 DR. Darlington Ayume Akusa's licence was revoked by the Uganda Medical and Dental Practitioners Council (UMDPC) last year.
That was after he was sacked by Arua Hospital on allegations of being unfit to practise. He also faces allegations of alcoholism and drug abuse.

However, Akusa, a self-proclaimed believer, vehemently denies the allegations, saying he last tasted liquor over two decades ago. He claims he is a victim of malice and greed by top administrators at the hospital.

"I have been a Born-again Christian since December 31, 1995, when I offered my life to my Lord Jesus Christ at St Francis Chapel in Makerere University. I was a fifth year medical student. I have since not drunk any alcohol as claimed by Saturday Vision," he says.

Akusa also accuses the council for conniving with some members of the Arua Hospital administration and checking him into rehab without his consent on claims that he was mentally ill.
"They came with policemen, some hospital administrators and two nurses and took me to Butabika Hospital. They did not explain anything and I believe I was sedated because the next thing I knew, I was in Butabika for two weeks," he says.

Akusa says he was a victim of witchhunt at Arua Hospital, arising out of a sh1.9b funding that the facility received from the Belgium Embassy in the 2014/15 financial year.
"Due to my good work record, I was selected by the co-ordinator for the Institutional Capacity Building project of Belgium Embassy, to study community medicine with the sh1.9b funding that was given to the hospital's community health department for capacity building.

"As I waited for this opportunity, I did not know that the money had been released and mismanaged, allegedly, by two senior officials; Dr Alex Adaku, who doubles as the head of department of psychiatry and community health; and Dr Bernard Odu, the then hospital director," he added.

In the process of following up on this study opportunity and the funds, Akusa says he annoyed the two doctors because later, it turned out that the Belgian embassy rejected the accountability they had given for the fund. He said the matter was taken up by Arua district local government and five top hospital staff were dismissed in April 2017.

According to Akusa, this was the start of his problems. "During this period, Adaku and Odu raised several allegations about me directly to the registrar of the council. They even flouted the process by not going through the Ministry of Health permanent secretary.

They said I was mad. I felt so bad. I even went to Prof. Emeritus Emilo Ovuga in Kampala for medical examination to prove that I was not mad. I have proof to this effect. I was arrested from my home on December 17, 2017, sedated heavily and taken to Butabika Hospital until January 2, 2018. Imagine I had Christmas in rehab for no reason at all!

Prof. Ovuga had advised me not to confront them, but to apply for a transfer or for further studies to avoid needless fights in public service. I followed his advice, but the district leadership in their meeting of September 1, 2017, declined my request," Akusa narrated.

However, Dr Adaku, who is currently the Arua Hospital director, dismissed Akusa's allegations of malice and mismanagement of funds. He insisted that Akusa had a history of mental illness.

"If somebody is taken to Butabika, it is for his care and safety and he (Akusa) benefited from it and improved," said Adaku, who is also a psychiatrist by profession. "There is no mismanagement; this is an illusion of his mindset.

It was not the first time he was taken to Butabika," Adaku said. Dr Odu, who currently works in Lira district, said: "Akusa has been mentally sick and at the time we sedated him to take him to Butabika, he had become so aggressive. He even broke down and I personally wrote to the council and the health ministry over this issue. What do you do if someone had become dangerous to his patients?"

Akusa was also accused of wrong and over prescriptions to his patients by UMDPC. However, he said the drugs they claimed were dangerous are what everyone uses for the treatment of liver cirrhosis, cancer and sleeping sickness.

"I have people I have treated that can testify to this. Colleagues can testify that I treated 85 sleeping sickness patients. Am I an abnormal person?" he asked. "I think these people mistook my spirituality for madness. Way back in 2001, I prophesied that the former speaker, Francis Ayume, would be killed if he dared stand again for Parliament. I tried to stand for that position to block him on Reform Agenda platform, and the then medical superintendent, Dr Charles Olaro, refused to grant me leave for campaigns.

When Ayume died indeed, Dr Olaro claimed I was mad. In 2005, he made me undergo several medical checkups by the Medical Board before I was declared a normal person in 2008," he added. That was not all. In 2011, Akusa claims that he prophesied that Gen Aronda Nyakairima had a heart disease and needed emergency medical attention. He says he was called mad again, but Aronda passed on.

"Since last year, I have been at home without a salary for no apparent reason. I filed an appeal with the council, but they are quiet," Akusa lamented. When contacted, the council's legal officer, Doreen Harriet Nanvule, confirmed that they received Akusa's appeal, but said they were yet to decide on the matter.

She refused to give details of his case at UMDPC or the allegations of malice against the council. In a July 2 press statement, the council's registrar, Dr Ssentongo Katumba, confirmed that mental illness and drug abuse were a rising problem among medical practitioners in Uganda.
Katumba clarified that Akusa was de-registered for his failure to appear before the council to answer allegations regarding his fitness to practise, and not for alcohol abuse. Akusa defended himself, saying he could not attend the Medical Council hearing because he was invited at the same time Arua district was investigating the mismanagement of funds.