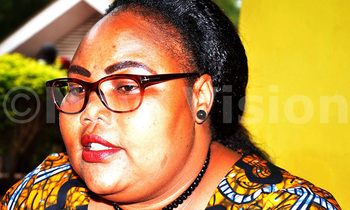 PIC:N'apwon speaking during the IGAD meeting at Mt. Moroto Hotel. (Credit: Olandason Wanyama)
SAYING THANK YOU
The South Sudan Minister for Environment and forestry has commended the Uganda government for the hospitality rendered to its refugees settled in the country.

Hon. Josephine N'apwon said the move by Uganda should not be forgotten, adding that their children now go to school and the rest have settled and access healthcare from the Ugandan Government facilities.

'Since the first war broke in Sudan, a number of people have crossed into Uganda as refugees," she noted.

N'apwon expressed her gratitude for Uganda's support for the people of South Sudan during an Inter-government Authority in Development (IGAD) high level meeting held at Mt. Moroto Hotel on Thursday.

She assured President Museveni that South Sudan appreciates the enormous task by the Uganda government in hosting the thousands of refugees in the country.

N'apwon, however, said her country was out to find everlasting peace solutions so that the citizens can return home to rebuild South Sudan.

"We have meetings ongoing supported by IGAD and Uganda to ensure peace returns in South Sudan," she noted.

N'apwon encouraged the traders from Uganda to continue trading with with South Sudan, saying a lot is needed for her country to settle economically.

"In the past, we have had ambushes by rebels along the roads, but since then, such activities have stopped," she said.

N'apwon encouraged leaders to do a lot to encourage the South Sudan people to respect Ugandans, saying without Ugandans, most their people would have experience untold suffering.

"Let us respect the people of Uganda for the total support and hospitality they have offered to us," she said.

N'apwon said several peace meetings have been held in several countries, but peace in South Sudan remains fragile, asking for support from the international communities.

The minister commended President Yoweri Museveni for his gallant efforts in uniting rival leaders in South Sudan and other countries in the great lakes region.