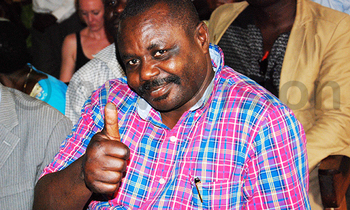 PIC: The deputy Speaker of Parliament, Jacob Oulanyah. (File photo)
DONATIONS
Schools located in the Greater North Region (GNR) of Uganda have received an assortment of over 6,300 economics text books, to boost their capacity in economic issues and analytical skills to enable them excel in their academics.
GNR is made up of nine sub-regions namely Acholi,West Nile, Lango, Teso, Bukedi, Karamoja Bugisu, Sebei and Bunyoro.
MPs of the Great North Parliamentary Forum (GNPF) chaired by the Gulu Municipality MP, Lyandro Komakech lobbied Adroit Consult International the publishers of the books which will be distributed to specific schools in the region.
According to the coordinator of GNPF, Christine Chandiru, each region is entitled to at least 700 copies of the books.
"The schools that will receive the books must at least have a library or a resource centre, to store the books and benefit others who will join the schools in future," Chandiru said.
The deputy Speaker of Parliament, Jacob Oulanyah, yesterday flagged off the first 300 consignment of the books at Parliament and handed them over to MPs of the forum.
Oulanyah, appreciated the author for giving the less privileged schools in the region. "When you give the less privileged students, it will boost their understanding and enable them excel in their exams, such actions will make students self-reliant, fight poverty and become innovators instead of job seekers," said Oulanyah.
Moses Asasira the Author of the books titled " Summarised applied questions and answers for the Uganda Advanced Certificate of Education (UACE), while handing over the books to Oulanyah, said the ministry of education has approved and cleared the books for use on the Ugandan A' level syllabus.
Asasira added that the books are also available in reputable book shops. He said the books will improve education standards in less privileged schools in the region.
Komakech said many students at all levels lack text books.
"Without textbooks, children can spend many of their school hours copying content from the chalkboard, which severely reduces time for engaged learning," he said.
Ministry of education speaks out
When contacted by New vision, Simon Tuke, the assistant Commissioner in Charge of instructional Materials Unit at Ministry of Education said government is proposing to procure text books in the financial year 2020, for the approved 21 subjects for lower secondary (O'Level) curriculum.
"At least we expect three students to share one text book in secondary schools students," Tuke said.
He said government has not planned to procure text books for senior five and six including economics.
Tuke highlighted that textbooks were purchased and distributed to Universal Secondary schools (USE), in 2012 under the World Bank project dubbed Adaptable Program Lending (APL 1) in the support of the first phase of Uganda post primary education and training to improve the quality of lower secondary education.