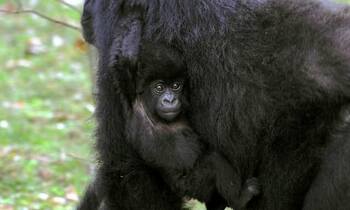 WILDLIFE

KINSHASA - Virunga Park, the nature preserve in the east of the Democratic Republic of Congo famous for its endangered mountain gorillas, said Wednesday that a mother had given birth to two babies, bringing the number to nine infants born so far this year.

"The mountain gorillas were a most welcome source of good news in 2018 and it's only getting better!" the park said in a statement, adding that it was "thrilled" with the new arrivals.

The park currently counts 604 individuals, compared with 395 in 2000, according to Congolese news website ActuCongo. They comprise about 60% of Africa's estimated total of around 1,000.

Virunga, Africa's oldest nature reserve and a UNESCO World Heritage site, is located in North Kivu, one of the most restive areas of the DR Congo, where numerous armed groups are active.

Five park rangers and a driver were killed early this year, and in May the park suspended all tourism after three people, including two British visitors, were abducted and a ranger was killed.

Created in 1925 when the DR Congo was a Belgian colony, the park is Africa's most biologically diverse protected area.

The mountain gorilla was immortalised in the film about primatologist Dian Fossey, "Gorillas in the Mist."

The park, boasting lush forest, glaciated peaks and savannah, spreads over 7,800 square kilometres (3,000 square miles) and borders Rwanda and Uganda.

In 2010 Kinshasa granted permits to Western oil groups to explore concessions along large portions of the reserve, drawing howls of protest from environmental groups. They have since scrapped the projects.

Last month the government green-lighted plans to establish an "oil interest zone" covering more than one-fifth of the park.

Global Witness, which campaigns against corruption and environmental abuse, called for a halt to the project, saying it would have "catastrophic consequences" for the environment.