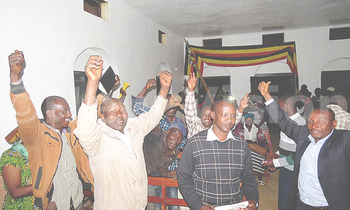 PIC: NRM's Jimmy Kawaida dancing with his supporters after being declared winner.(Credit: Job Namanya)

ELECTIONS

RUKIGA - National Resistance Movement (NRM), party candidate, Jimmy Kawaida was declared as the Mparo town council LCIII Chairperson elect on Tuesday evening.


Kawaida defeated FDC flag bearer, Rodgers Kyomukama.

According to the results declared at 9:56pm at the district Lukiiko hall by the Rukiga district returning officer, Flavia Nakasi, Kawaida won the election with 907 votes (60%) beating his rival Kyomukama who got 594 votes making 39% out of the 1501 votes that were cast.

Mark Kushaba, another FDC party member and flag bearer was also declared as the winner for the Mparo town council district councilor after scooping 323 votes, followed by NRM's Faib Kyakunzire.
Kyakunzire secured 149 votes while Amos Ainomugisha, an independent candidate came last with 10 votes .

Shortly after he was declared the winner, Kawaida pledged to unite the people of Mparo town council saying that a divided area cannot prosper.

"My major task will be to improve on the crippling service delivery especially in health facilities and roads in the area.


"I believe that we can only achieve this when we are united all together," he said.

The Rukiga Resident District Commissioner (RDC), Emmy Ngabirano said the polls were free and fair despite a few incidences of violence that they registered on the eve of the elections.

Meanwhile, Kyomukama is nursing injuries he sustained after being attacked by unknown assailants.

Kyomukama was reportedly thumped by unknown people at Kihanga playground in Katungu village in Mparo ward at around 12am on Tuesday.

He was returning home in Kanyweero cell in Sindi ward in the company of his political assistant, Witness Ngabirano alias Ndugu.

The duo was coming from the residence of Jack Sabiiti, the former Rukiga county member of Parliament in Kashaki cell Mparo town council where he had gone to select his polling agents for yesterday's polls.

Roland Tusiime Kamujanduzi, Byamukama's polling agent, said that attackers were armed with machetes and stones.

Tusiime said that they first blocked the road with hardcore stones to stop the victims who were riding on a motorcycle from fleeing.

They cut Byamukama several times on the head and pelted Ngabirano with stones on the head.

According to Tusiime, the attackers took off when their victims made alarm, which attracted residents.
Residents rushed Byamukama and Ngabirano to Mparo health centre IV while bleeding heavily.

John Mwaule, the Rukiga District Police Commander (DPC), says they have opened inquiries at Rukiga Police station.

Jack Sabiiti, the former Rukiga county legislator and FDC Chairperson condemned the attack blaming the rivals for plotting it.

"It is unfortunate that in this era some of our rivals still find electoral violence as a solution to their concerns. We shall pursue the cause for justice in this case until the end," he said.