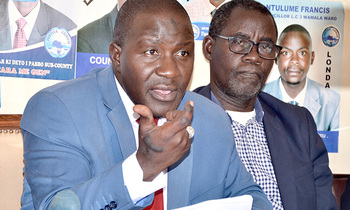 PIC: Basalirwa (left) addressing a press conference at JEEMA offices in Mengo Kampala on July 24 2018. Right is the founder member of JEEMA, Mohammad Kibirige Mayanja. (Credit: Ronnie Kijjambu)
ELECTION VIOLENCE
By Leonard Kamugisha

Justice Forum (JEEMA) president Asuman Basalirwa, also flagbearer for Bugiri municipality, is seeking compensation to the family of his body guard and campaigner Asuman Walyendo, tasking Uganda Police with investigating into the matter and bringing the murderer to court.

Basalirwa was speaking to journalists on Tuesday, July 24, at the party headquarters in Mengo Kampala. He condemned the cold blood murder of Walyendo and vowed to follow up the matter.

"We condemn this murder in the strongest terms and we shall not rest until the murderer is brought to book and compensation to his family granted." Reads part of the press statement.

Basalirwa condemned the Police's reluctance in investigating the unidentified Police officer who shot his body guard, saying Police has concealed the identity of the murderer.

Walyengo, 28, a father of four and husband to two wives, was shot in the wee hours of Thursday 19 July,2018 during a campaign rally along Saza Road in Bugiri as Police dispersed Basalirwa's supporters who had forcibly wanted to hold a rally in Busoga University.

He was rushed to Line Medical Centre in Bugiri Municipality and when conditions worsened, he was transferred to Bugiri Hospital where he breathed his last. Walyengo was laid to rest at his ancestral home in Kapyanga Bugiri district.

Basalirwa promised to follow up the matter to ensure the Police officer who murdered his supporter is convicted.

According to Basalirwa, the bullet was intended to kill him because he was standing beside his body guard, but survived narrowly. He suspended any allegations that the shot was a stray bullet.

Basalirwa said Police in Bugiri district, headed by DPC Jeff Buyungo, has failed to play a neutral role in regards to keeping law and order, citing the mass arrests of Opposition supporters. He said the DPC is liable for the death of because he was shot in his sight.

Bugiri municipality election is slated for Friday, July 27, 2018. Five candidates are vying for this seat. The candidates are John Francis Oketcho (NRM), Eunice Namatende (FDC), Asuman Basalirwa (JEEMA), former Bugiri district LCV Chairman, Hajji Siraji Lyavala Samanya and Joel Wamono, both Independents.

Basalirwa says the NRM Camp is planning to ridge the election claiming that the camp is distributing money and other food items in open doors to induce voters.

He reminded EC and Police force to ensure there's law and order for a free and fair election lest; the party will not accept the outcomes of the chaotic election.

He further said the Electoral Commission's failure to respond to his filed complaints against failure to provide voter location slips in all the 28 polling stations, intimidations and voter bribery is likely to suppress the voting process.

He said he has appointed MPs and lawyers as polling agents to ensure vigilance amongst the voters is preserved for a free and fair election.

Basalirwa condemned the use of sectarian language based on tribal and religious lines in Bugiri Municipality and appealed to his voters to maintain law and order on the election date and desist from any forms of intimidations.