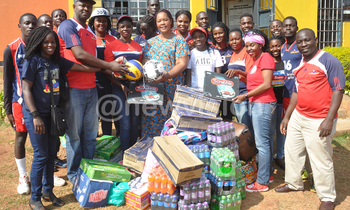 As part of the events that will lead to the 22nd edition of the NSSF KAVC International, the team including players, coaches and administrators had a Corporate Social Responsibility(CSR) activity at the Naguru Remand home on Saturday.

They donated equipment that included foodstuffs and volleyballs. They later played volleyball with the children.

The CSR activity is one of the events that mark the ten-year partnership between KAVC and NSSF who are the main sponsors of the annual tournament.

KAVC has for the past couple of years endeavoured to stay connected to the community and give back not only as a CSR activity, but as an appreciation tool.

"We have previously engaged with community beyond nurturing talent by having mentoring talks in schools, hospitals clean up (Mulago hospital), half day placement of our members at SOS children's home Entebbe, to mention but a few." said KAVC President, Amon Ainebyona.

Ainebyona indicated that the reason for choice of Naguru Remand Home is because the Community has over the years been a breeding ground for many volleyball players.

"To mark our ten-year partnership with NSSF, we are doing what we do best beyond volleyball—connect with communities! And this year we gave back to a community that is closest to home in Naguru. We have had a number of good athletes in the club (and general volleyball fraternity) come from the Naguru area and therefore, it's against this background that we chose to have our CSR this year at Naguru Children Remand Home." he added.

After the CSR activity, all roads lead to Samaritan Primary School, Namugongo on Sunday for the Primary Schools preliminary championship.

The tournament aimed at nurturing talent attracted nine schools. The best two in each category (boys and girls) qualified for the finals that will be played on August 5 before the women's final.