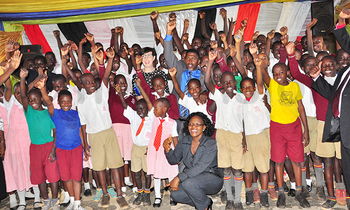 The French Ambassador to Uganda, Stephanie Rivoal has advised the management of Naguru Katali Primary School to protect school land, saying that many schools in Kampala have fallen victim to investors who grab their land because of their location.
Rivoal made the remarks during her visit at the school on Friday at the invitation of the school management committee, which called on her for support to the school.
Naguru Katali is one of the Kampala Capital City Authority (KCCA) schools which has been facing challenges over land wrangles.
Rivoal said that well as the embassy may give support to the school, there is need for KCCA and the school management committee to lobby for support for the protection of the school environment.
The school is among the 18 public schools in Nakawa division and is open to the community. The school is located in Upper Naguru between Naguru Katali slum and Naguru estates.
"Although the school has a conducive learning environment and expanding educational infrastructure the school is not enclosed and lacks of a fence," head teacher Patrick Kahuma noted.
Rivaol pledged support saying that it will be listed among those schools which the embassy will support. She encouraged the girl child to work hard saying that they have equal opportunities with the boys.
The school management committee chairman, Henry Baguma, outlined some of the problems that pupils face, saying that most of the girls drop out of school because they do not have sanitary pads.
The mayor of Nakawa, Ronald Balimwezo, told teachers and parents that education is the greatest opportunity they can give to their children and called for more support from other stakeholders in the division.