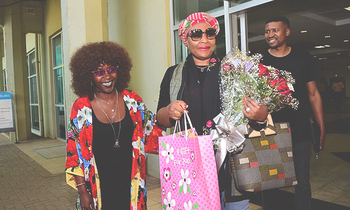 PIC: Ugandan comedian, Ann Kansiime welcomes Chaka Chaka at the airport on Tuesday. (Courtesy photo)

ENTERTAINEMNT

KAMPALA - The Sensational South African music icon Yvonne Chaka Chaka was in Uganda just two years ago.
Chaka Chaka performs yet again this Friday at the Serena Hotel, alongside Bobi Wine in a charity show for Uganda's street children.

The legendary singer, popular for her Songs like I'm Burning Up, Thank You Mr Dj, I Cry For Freedom, Motherland and the ever-popular Umqombothi and Bobi Wine will be accompanied by Comedian Salvado in entertaining revelers as they raise funds to build a school for former street children.
Legendary singer, Yvonne Chaka Chaka at the Enttebe airport. (Courtesy photo)

Jacqueline Wolfson Co-Founder and Chief Executive Officer Shule Foundation that is behind the charity concert says they already have children they have placed in different schools and proceeds for this concert will help them set up a school of their own to support these former street children.
"These children dream of getting an education and finding a good job so that they can take care of their families, we want to help the realize this dream starting with education," she says.

The plan is ensure that children, who have aged out of school, get into a classroom with their peers and teachers who understand their plight, to teach them at their own pace whether in formal or vocational school so that they get an education and skills to eventually survive on.
Gates open as early as 6:00pm for the fundraising concert this Friday. Chaka Chaka had it tough growing up being raised by her widowed mother and Bobi Wine grew up in the Ghetto

Wolfson points out that this background will help the stars fully bring out the plight of these children as they can relate with their struggle.

Tickets are going for sh100,000 general seats, sh300,000 VIP, sh5m and sh8m for VVIP tables for the Friday night concert.