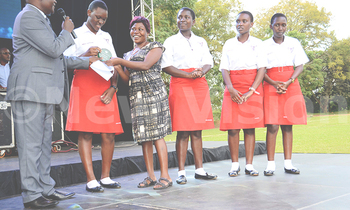 PIC: The patron of SWAS club Trinity College Nabbingo Suzan Nakaliisa receives a plaque from NWSC official during the schools annual awards ceremony at Kyambogo University on July 13. (Credit: Francis Emorut)
AWARDS

KAMPALA - A total of 94 schools have been awarded School water and Sanitation (SWAS) convention awards of National Water Sewerage Corporation (NWSC) which included cash prizes and plaques.

This year's convention was held under the theme: "Plant a tree, save the future," and 400 schools across the country participated in the competition.

The awards were based on the number of planted trees, exhibition on innovations and technology, presentation of water and sanitation poems, skits, plays, drama and songs all aimed at protecting the environment, water and sanitation.

The winners for Primary School category includes Green Hill Academy, Budo Junior School and Gayaza Junior School as top winner, first run up and second run up respectively.
Pupils of Gayaza Junior School performing during the School Water and Sanitation covention annual wards ceremony at Kyambogo University. (Credit: Francis Emorut)

Green Hill Academy received cash prize of sh2.5m, while Budo Junior School got sh2m and Gayaza Junior School sh1.5m.

The secondary school category awards went to St. Kizito Secondary School Bugolobi as the overall winner with cash prize of sh2.5, followed by Kings College Budo who walked away with sh2m and Nabisunsa Girls School became the third with cash prize of sh1.5m.

Other schools which scoped awards are Bitamaria, Nyankonyi Primary School, Lugazi Homestone Secondary School, Kira College Butiki, Hillside Primary School, Jinja Secondary School, Kaboja Junior School, Iganga Boys Boarding School, Kaliro High School, Hill Road Public School, Seeta High School, Namilyango College, Iganga Secondary School, Bishop Cyprian and Namagunga

The NWSC managing director Dr Sliver Mugisha encouraged both pupils and students to walk the talk of planting trees in order to conserve the environment.
Pupils of Gayaza Junior School receive a plaque from NWSC offcial Eng Mahmood Rutaya as winners of School Water and Sanitation convention during the annual awards ceremony at Kyambogo University Cricket Grounds in Kampala on July 13. (Credit: Francis Emorut)

"Let's shift into action and not only concentrating on classroom work," Dr Mugisha told guests.

He appealed to organization to expand the programme and have more than 100 regional centres to participate and the top cream would be selected.

Suzan Nakaliisa SWAS club patron for Trinity College Nabbingo, which also received award, said the water corporation initiative was good as it empowers schools to spearhead crusade against environment destruction.