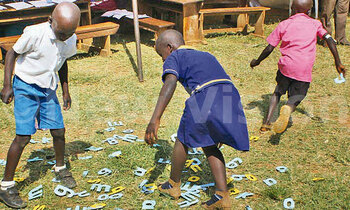 PIC: Pupils looking for jumbled letters on the ground as one runs to pin his letter on the board. (Credit: George Bita)

TEACHERS MAKING A DIFFERENCE


New Vision is profiling some of Uganda's teachers making a difference. The 12 most innovative teachers will share a cash prize of sh18m and the five most outstanding will go for a week-long all-expenses paid study tour to Ireland courtesy of New Vision, Irish Embassy in Uganda, Trocaire and Simba Travelcare, one of Uganda's leading tour and travel management companies. Today we bring you the story of Edward Wambi, the deputy principal of Bishop Willis Core Primary Teachers' College in Kaliro district


(This story first ran in the New Vision on May 21)
________________

Many times, teachers put class tasks and co-curricular activities far apart, but Edward Wambi is using innovative means to bridge the gap. Wambi, the deputy principal of Bishop Willis Core Primary Teachers' College in Iganga district, explains that education and sports are inseparable.

"Both teachers and pupils need to appreciate why we have a Ministry of Education also handling sports. That is why I am on a crusade to inculcate sports into classroom activities," Wambi says.

Allen Nabirye, the Mayuge district inspector of schools, reveals that Wambi is a common sight at primary schools throughout Busoga sub-region crusading the initiative.

"He has enthusiasm in involving both pupils and their teachers in picking up simple modes of handling the two at once. It could just be a competitive sports task involving assembling words from card letters," Nabirye says.

"Many times, teachers are in a rush to just do class work and produce academic excellence. However, Wambi is trying to show that the two can be done concurrently and still deliver good results," Nabirye says.

Sulaiman Ogajo Baraza, the Mayuge resident district commissioner, says the arrangement is a sure way of curbing absenteeism.

"We have learners whose major interest is co-curricular activities. So, if a maths teacher makes pupils run around to match numbers written on cardboard, two birds can be killed with one stone," Baraza argues.

He adds that a child who hates maths may be encouraged to attend school to benefi t from the co-curricular aspect, hence checking absenteeism.

Patrick Tibamubi, a director of studies at Nkonte Primary School in Kaliro district, echoes a similar view.

"In a school of 1,020 pupils, daily attendance may be low, but on the day of fi eld events such as sports, almost the entire school shows up. It is true that some pupils have a bias for outdoor activities," Tibamubi adds.

How Wambi does it Henry Kabulo, the Bugiri district inspector of schools, says Wambi is in charge of outreach under Early Grade Reading (EGR) for Busoga region.

"He reaches out to schools and encourages the incorporation of the crucial co-curricular element.

The impressive bit is that as children seemingly relax, they are learning," Kabulo says.
Wambi gives a certificate to one of the best pupils in a contest

Peterson Basalirwa, the Kaliro district education offi cer, cites a recent reading/ writing contest at Kaliro Church Primary School as being an integration of class and co-curricular tasks.

"Pupils of P1 and P2 from all over Kaliro district participated in this challenge. This brainchild of Wambi enabled children to exhibit their peculiar skills," he says.

He believes the sprint for letters scattered on the grass followed by a dash to pin them and form a word exercised both the mental and body physique of participants. "Running around was cocurricular, while formation of words was class work. This is the learning needed to move for today's generation," he emphasises.

Basalirwa hailed Wambi's gesture of handing out gifts of bed sheets, cups and mattress to the best learners.

Wambi says he uses some of his allowances to buy simple, but meaningful presents for the best performing children.

"A gift means a lot to children. It actually drives them to work harder, thereby learning," Wambi assures.

Community benefit

Wambi has mobilised heads of schools to have the parents be part of these learning schedules. "All over Busoga subregion, parents now provide simple learning aids such as jackfruit, pawpaws and other items to help learning."

He adds that teaching children from the fi elds is also a form of entertainment for residents who occasionally crowd school compounds to witness children learn as they play.

Godfrey Ouma, the Namayingo district inspector of schools, says some of the interesting activities are taken up by locals to become household games.

"At times I find school dropouts around Namayingo town playing with letters to form words instead of their usual board games. It means the learning process is spilling over into the schools' neighbourhood," Ouma says.

Ibrahim Kanakulya, the Kamuli district Inspector of schools, appreciated Wambi for the initiatives that are becoming a trademark for schools in the sub-region. "Nowadays, it is common to fi nd children learning class work together with cocurricular activities. It is a step in the right direction," he says.

Fred Kizito, the Kaliro chief administrative offi cer, believes such interventions give hope for better education standards.

"The time is now to do away with the notion that education is about teaching students to pass," he says.

According to Joseph Ntege Lubwama, the principal education inspector at the Ministry of Education and Sports, class work goes handin- hand with games.

"You cannot effectively talk about one without mentioning the other. What Wambi is doing for Busoga is, therefore, commendable," Lubwama said.

WHAT STAKEHOLDERS SAY

Suzan Nakibande, headmistress of Nakawa Primary School, Bugiri district: I have managed to put in place most of the techniques that bring co-curricular activities in the classroom.

However, all this would not have been possible without Wambi's tireless efforts. Karl Marx Otim, Kotido district inspector of schools, Karamoja: The rather unfriendly terrain of Karamoja sub-region makes play to be somehow neglected by several teachers.

However, after getting tips from Wambi, we are struggling to change the mindset.