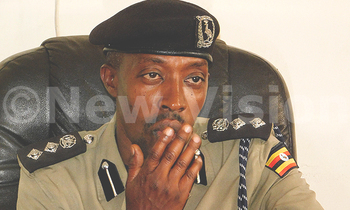 PIC: Uganda Police spokesperson, Emilian Kayima. (Credit: Titus Kakembo)
SECURITY ALERT

KAMPALA - Once beaten twice shy, goes the old adage and Kampala City is not taking any security chances.

Plain clothed cops and their uniformed counterparts are combing the city and its suburbs as soccer fans prepare for the World Cup 2018 finals in Russia.

"In the first place, any establishment screening the finals ought to have an assembly point in case of any disaster," cautioned the Uganda Police spokesperson, Emilian Kayima at the Kampala Central police station.

"Fire extinguishers, a vigilant team of observant staff on the lookout for suspicious people and good exit points are a must."

"If you see any suspicious object, contact the local police."

This was during a press conference, July 11 where Kayima asked soccer fans to avoid: collapsing structures, huge crowds and open spaces.

"This is the most exciting part of the World Cup," cautioned Kayima. "Unscrupulous law breakers know it too."

"They will relocate. For visibility and impact the terrorist will want to strike at this time. Besides terrorists, there are: pedophiles, rapists and muggers on the prowl," he added.

Summing all that up, "Our territory commanders are ready to storm and strike where need be. Take heed, do not expect an arrest warrant when you are suspected to be terrorist. We will have you in the coolers first to help us with investigations."

Kayima says the memories of the bloody World Cup are still fresh and they must control their excitement.
Soccer fans were also cautioned against beating their spouses for supporting different teams, drinking liquor and driving recklessly.

Today

A tour of Kyadondo Rugby pitch, where the second bomb exploded and killed more than 70 people during the 2010 World Cup finals, was a revelation.

Things have never been the same there after the Al Shabaab's Sheikh Ali Mohamud claimed responsibility.

The reason given was the Uganda People's Defense Force's (UPDF) indulgence in restoring peace in Somalia.

The girls serving beer have names embellished on their Tee shirts. One is Shamim. Another is Stella, Kabuye and MC Right. Marabou storks are only patient birds waiting to take flight and pounce on left overs thrown at them by merry makers.

To get in there, one is subjected to metal detectors, being physically searched and at times sniffed by Police dogs.

Even Christians in the habit of kissing the shoes of prosperity preachers are checked.
A view of Kyadondo Rugby club. The pitch fills to capacity when there is a soccer final such as the forthcoming World Cup. (Credit:Titus Kakembo)

Flashback

"I recall that day like it was yesterday," says a Silk Events staff John Kintu. "The World Cup was in its finals with Spain and Holland tussling it out in South Africa's City Stadium. The date was July 11, 2010."

That day if an Air Time card was tossed in the air at the pitch, where the match was telecast on larger than life screens, find its way on the grass would be impossible. The occassion was spiced by: a Bebe Cool performance, all types of beers and open oven roast Nyama Choma (beef roast.) Ugandan still love congregating in pubs or public places with colleagues to cheer.

"Everybody was having a blast in Kampala speak," recounts Kintu. "Like bad luck I later learned, after the first half of the game is when Kampala had the first blast in the notorious Red District of Kabalagala. It left 13 victims sprawled on the floor."

In the time it takes to bat an eyelid, another bomb, was detonated in Kyadondo. A cloud of smoke rose above the city.

It was seen by residents on more than 20 hills surrounding the city. Live television screens got footage of the dead, still clutching either a Nyama Choma drum stick, another spilling chilled beer from a sweating bottle. Legs and arms were twisted in angles considered impossible by the living.

In total, 86 people never lived to tell their stories. Among them were Ugandans, Americans and Asians. Ambulances sirens roared wildly as they blipped on and off.