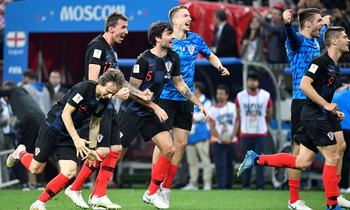 PIC: Croatia celebrate their win against England at the World Cup semifinals on Friday. The latter qualified for the finals. They will be meeting France on Sunday to mark the end of the 2018 World Cup contest. (AFP)
WORLD CUP FINALS


KAMPALA - Tomorrow, will mark one month and one day since World Cup 2018 began. It will also be the climax of the event that has been so thrilling.
The biggest match in international soccer takes place in Russia with France or Croatia being crowned world champions.

It promises to be a gripping final to both sets of fans that are in Russia and those watching from other parts of the world.

If the tension that gripped both set of fans for either side in the semifinals is anything to go by, then the neutrals are in for a treat as well as they choose who to support of the two.

The French community in Uganda is expected to converge at the France Ambassador to Uganda, Stephanie Rivoal residence to show solidarity for their team just like they did in the semifinals against their European neighbours, Belgium.
Belgium fans in Uganda pose before the semi finals of the World Cup (France v Belgium) in Russia, at the French Ambassador residence, July 10 2018. (Credit: Michael Nsubuga)

Both France and Belgium fans as well as a host of other Ugandans enjoyed the viewing party in her compound in Nakasero that attracted close to 300 fans.

There was merry making before, with both fans mingling and enjoying all kinds of drinks from the two countries before the match kicked off.
To fire themselves up before the match, French fans that out-numbered their Belgium counterparts sang in unison but would go silent as Belgium dominated the early stages and exchanges of the match.
They will need more unity against a determined Croatia side that has won three consecutive matches after extra time.

If France wins like most people think, expect more celebrations like what was witnessed after the win over Belgium.

They are gunning for their second World Cup trophy after 20 years when they won at home in 1998 in Paris with a 3-0 win over Brazil.

That team was captained by Deschamps, who is now aiming to emulate Brazilian Mario Zagallo and Germany's Franz Beckenbauer by winning the competition as both a player and manager.
With just 4.2 million people, Croatia is the smallest nation in the final for 68 years since Uruguay in 1950.

Both teams have some fantastic players, 10 of which play in one of the top leagues in the world, La Liga.
But, there is no doubt France has more talent. From young star Kylian Mbappe and Antoine Griezmann up top to a midfield led by one of the best central defensive midfielders in the world in N'Golo Kante alongside Paul Pogba, the team is superb.