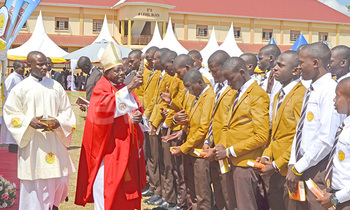 PIC: Bishop Kaggwa blesses the newly inaugrated prefects of St Henry's College Kitovu during the function. (Credit: Mathias Mazinga)
PRO-PEOPLE LEADERSHIP
The Catholic Bishop of Masaka diocese, Dr John Baptist Kaggwa has asked political leaders at all levels, to always work for the positive interests of their people. He blamed some politicians, who he said just pay lip-service to the needs and concerns of their people, instead of solving them.

"Today Uganda needs humble leaders, who work for the common good of their subjects. Our politicians must promote peace, reconciliation and tranquility in our country Uganda and her neighbours. They must come up with appropriate initiatives for the eradication of poverty, so that our people can live a dignified life."

Kaggwa was presiding over the thanksgiving mass for the Patron Saint's Day of St Henry's College Kitovu at the school in Masaka District on Saturday.

Further in his homily, the Prelate asked the students, teachers, parents and support staff-members of the school to emulate St Henry, the Patron Saint of the School, who he said exhibited great faith, when he forsook the worldly pleasures of wealth and power and committed himself to the service of God and the Church. He asked them to strive for holiness, arguing that piety was not a preserve of the clergy and the religious.

The headteacher of the school, Bro Augustine Mugabo announced that the school, which was started by the White Fathers in 1922 and handed over to the Brothers of Christian instruction Inn 1927, will be marking its centenary in 2022. He said that centennial development projects have been completed.

Mugabo later thanked President Yoweri Museveni for his love and support for the school. He said Museveni had made an enormous contribution towards the construction of the new A-level block, whose fundraising function and subsequent inauguration he also presided over. Museveni also made a generous cash pledge towards the construction of the school's science laboratory.

The Deputy Chief of the Defense Forces, Lt Gen Wilson Mbadi, who represented Gen Elly Tumwine (the Chief Guest), thanked Bro Augustine Mugabo for his focused leadership, to which he attributed the development and academic excellence of the school. He further thanked Mugabo for reviving the school's brass ensemble, which he said would be instrumental in inculcating the virtue of discipline in the students, further to providing entertainment.

The Chairman of the Old Boys, Apollo Kivumbi announced that the old boys had rsolved to spearhead the fundraising drive for the construction of the school's Education Centre (Multipurpose Hall), which will act as the centenary monument.

The function was also graced by the Provincial Superior of the Brothers of Christian Instruction, Bro Peter Kazzekulya, the Pookino (Chief of the Buganda Kingdom County of Buddu), Vincent Mayega and the RDC of Masaka, Lt Joe Walusimbi among several other dignitaries.

During the function, Bishop Kaggwa confirmed about 30 students into the Catholic faith and also sworn in the school's new prefectorate led by Robert Butere.