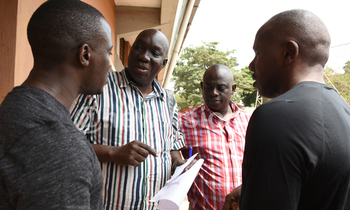 The national boxing federation UBF has summoned 63 boxers to start training on Wednesday at Lugogo in preparation for the East African Games starting August 16 to 30 in Burundi.

The summoned boxers include eight women and 55 men who will later be trimmed to a final squad of 10 men and eight women.

According to the federation secretary Simon Barigo, boxers will be under the supervision of a team of coaches led by Patrick Lihanda.

"We are trying to rebuild boxing and that is why we are participating in all these tournaments to give our boxers exposure ahead of big international tournaments," Barigo said.

"We shall trim the men's team to the best 10, but shall maintain all the eight ladies because building women's game is one of the areas we are pursuing."

The women's team includes Moreen Adhiambo, Mariam Nakiberu, Ainebyona, Emily Nakalema, Amina Musa, Monica Musimenta, Suzan Akello and one Suzan.

The men's training squad is made up of Shadri Musa, Yusuf Babu, Medi Lubega, John Owino, David Ochan, David Kavuma, Nicholas Katongole, Joshua Kiiza, Juma Miiro, Sulaiman Shaban, Gerald Aliga, Yasin Adnan, Francis Onyango and Ali Sserunkuma.