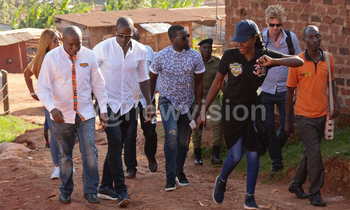 The last activity for former Arsenal and Ivory Coast player Emmanuel Eboue in Uganda last week was a visit to the Acholi quarters football pitch in Kireka on Friday where he met a number of children from the surrounding slums.

The visit did not only remind him of his own humble beginnings as a footballer but also the plight of many African footballers who go through a lot of hardships that include playing bare foot and on makeshift playing fields.

"I used to play without shoes before I left for Europe. It takes determination and God to become what you want to be in life," Eboue said.

The Aliguma Foundation that carries out sports outreach programs in the vicinity in conjuction with Bunga Bet organised the visit that also had former Reading and Portsmouth defender Ibrahima Sonko in tow.
Eboue is introduced to some of the footballers in the Acholi quarters
"Someone needs to help these children achieve their dreams just like we were all helped and I wish this pitch could be worked on to become more conducive to the playing conditions," Sonko stated.

The Aliguma Foundation mission is to transform the lives of underprivileged children in the slums through sports.

"My motivation is to see these children become better people and to encourage them to participate in Slum Soccer so that they stay away from crime. So having people like Eboue speak and encourage them can hopefully help transform their lives as they grow up," Aliguma said.

Bunga Bet CEO Prosper Tuhaise promised support to the children and the Aliguma Foundation by first improving their playing field and ensuring many children go back to school.